ArtWalk Carlsbad is Back in September 2022
Outdoor art festivals might sound like a trend from past decades.
But let's be real - when it comes down to it, these past decades are currently trending and art festivals haven't gone anywhere.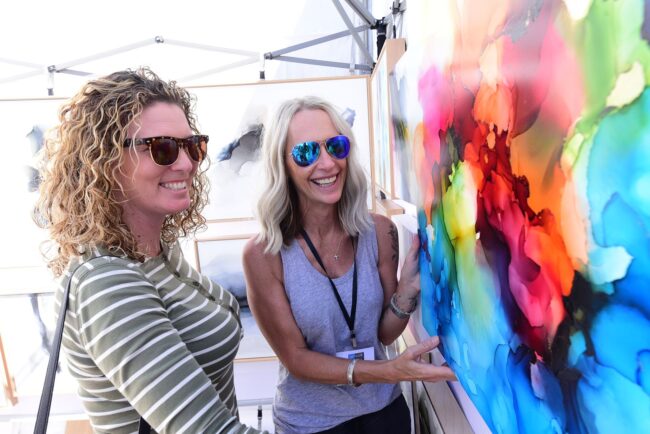 New art fairs continue to spring up all over the world. Many take place over the course of multiple days, giving artists a space to display their work and make money while they're at it. Art fairs are also culturally enriching, educational and are a forum for both unique and classic art forms.
By and large, art fairs are the place for artists to see their hard work payoff in real time. Vibrant atmospheres and engaged attendees highlight how art can bring the community together and shed a spotlight on artist creativity that might otherwise go unnoticed. Every art piece has an inspirational story behind its beauty and these stories are brought to life by the artists who create them. Art fairs provide an opportunity for enthusiastic community members to interact with and support local artists and businesses, as well as having a creative and enlightened way to experience their city.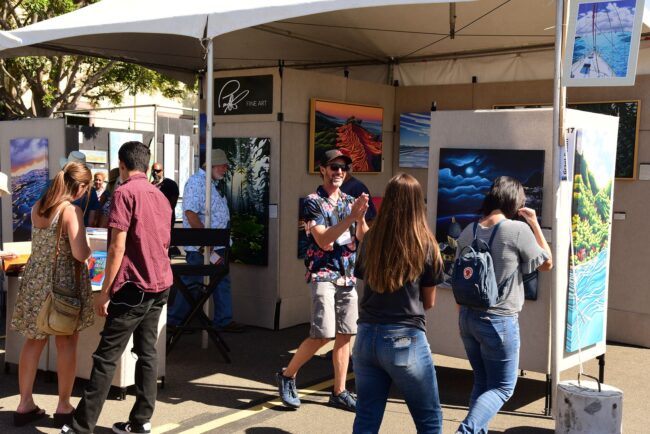 From sculptures to paintings and from the dramatic to the whimsical, art festivals boost the visibility of local emerging and seasoned artists and enhance the artistic culture of the community. And that is why, after two years of hiatus, we are very excited that the Artwalk Carlsbad is returning to the scene at the end of this month.
This year, the third annual Artwalk Carlsbad will be held on Saturday, September 24 and Sunday, September 25 on Armada Drive in Carlsbad, just east of the Flower Fields. Admission is FREE for attendees. There will be photography, paintings, glass work, fine jewelry and sculpture for sale from over 150 different artists from the U.S. and Mexico. The event will also offer interactive art activities for children and musical performances by local bands. Guests can enjoy delicious food from food trucks and beer and wine for sale to drink while on site.
Situated above the Flower Fields, Artwalk Carlsbad is unique because of the natural beauty of the area surrounding the artwork exhibits. The event will be spread out along Armada Drive, overlooking a beautiful view of the Pacific Ocean. There are two entrances for easy access along Armada and Fleet Street. Free parking is available adjacent to the event.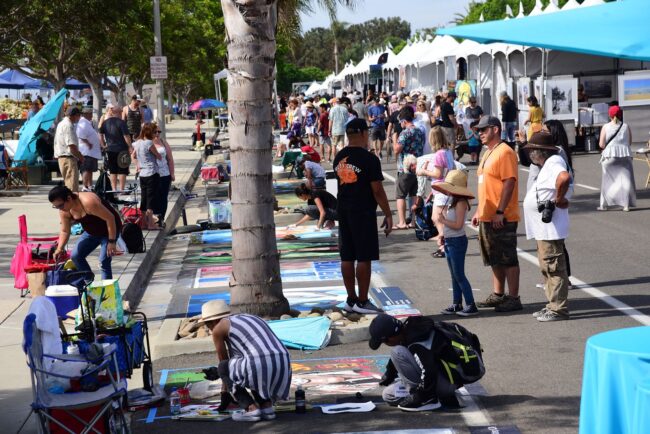 Once inside the event, guests can stroll through at their own leisure and explore all that Artwalk Carlsbad has to offer. There will also be plenty of activities for children at the Kidswalk. Innovative Therapy 4-Kids Inc., Tinkergarten and Villa Musica will be hosting everything from coloring and creative thinking to play-based outdoor learning and interactive lessons on how to create musical instruments from common materials.
In order to give back to the community, ArtWalk Carlsbad and each of ArtWalk San Diego's three annual festivals support their non-profit partner, ArtReach San Diego, an organization aimed at increasing equity in visual arts education in K-8 schools throughout San Diego County. Focusing on Title 1 schools, ArtReach San Diego offers free or low cost workshops to schools that have no other resources for art. Their programs inspire youth creativity and builds confidence through visual arts expression and community connection.
Artwalk Carlsbad 2022 will be open from 11am - 6pm on Saturday, September 24 and from 10am - 5pm on Sunday, September 25. For more information (including a location map), visit https://artwalksandiego.org/carlsbad/. Hope to see you there!