Carlsbad Parks: Where to Get Outside and Stay in Shape
There's a lot of chatter online comparing 'Gen Z' to 'Gen X'. The dates are hard to remember, and the acronyms are even harder to nail down.
Social media is abuzz with the differences in the way age groups part their hair, wear their jeans, mimic 'taking a picture', and recognize a rotary phone. Just like generations before them, older generations are convinced that things were simpler, cooler, and even 'better' in their day.
When it boils down to it, kids are kids, no matter what the newest trends say. And during the pandemic, playing outside is important for kids of all ages. Screen time can be fun for a while but when your whole life is virtual, being outside is a breath of fresh air. If you're Gen Z, Gen X, or any other generation in between - check out one of these Carlsbad parks to get out of the house and embrace your inner kid.
Maxton Brown Park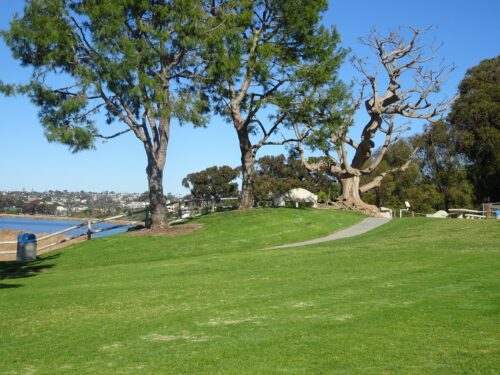 Sometimes, imagination and freedom are all that kids need to have a good time. At Maxton Brown Park, there is plenty of room for both. The well manicured grassy terrain is perfect for picnics, capture the flag, pickup soccer, or whatever else you can dream up. Maxton Brown is a single acre park located at the corner of Laguna Drive and State Park. While it may not have all of the fancy amenities that Aviara Trails or Calavera Lake boast, it does have a variety of picnic tables and benches with a beautiful view of the Buena Vista Lagoon. The park is open from 8 a.m to 8 p.m. and is right next to the ecological preserve.
Stagecoach Community Park
For most, Stagecoach is a giant music festival with flower crowns, campsites, and party goers. If you live near La Costa Canyon High School, Stagecoach Community Park is a fantastic place to stretch your legs and let your kids play. The park gets its name from the historic ruins on the property that are remnants of an actual stagecoach stop at Rancho Las Encinitas.
It is located in southeastern Carlsbad and is currently open from 8 a.m. to 8 p.m. The park is spread out over 28-acres with a community center and gymnasium. Outside, there is space for any sort of outdoor game you can imagine. There are two covered picnic areas with barbeques and electricity. There are also lighted basketball courts, four lighted tennis courts, and a large playground with sand cover.
Carlsbad SkatePark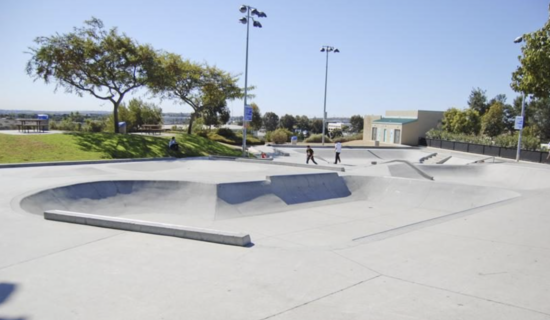 Pro skater Tony Hawk is a San Diego native. In April, he partnered with Vans to support Carlsbad small businesses during the pandemic. A portion of the proceeds from the season's custom slip-ons were donated to businesses in need. It's no surprise that Carlsbad is a city that embraces skate culture and cultivates small businesses to support the sport.
Teens that look up to Tony and love to skateboard are in good luck. The Carlsbad SkatePark is one of the best places in the city to perfect a kickflip. The park has a healthy mix of obstacles and is a great place for beginners. Parents can watch from nearby picnic tables, and there are restrooms onsite. It is well lit and is open from 8 a.m. to 10 p.m. There are two pyramids, pipe grinding ledges, and kidney and spine bowls - all of the key ingredients for skateboarders of any age.
Alga Norte Park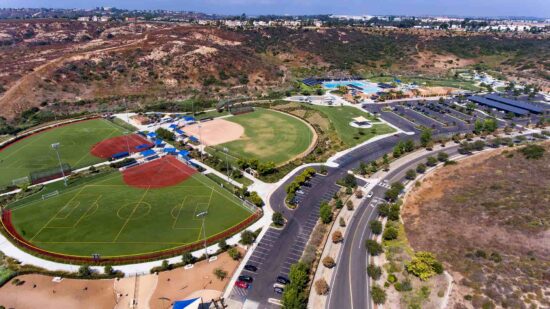 When something seems too good to be true, it usually is. Alga Norte Park is the exception to that rule. Alga Norte is a one stop shop for all of the outdoor amenities you could possibly want - and it is huge.
The park has 32 acres of green grass and facilities for swimmers, skaters, basketball players, children, and furry family members. The aquatic center is state of the art. It has a competition pool, diving boards and splash pads for kids. There is an off leash dog park with dedicated space for small and large dogs, a playground with shade cover, and a large skatepark. The open air sections of the park have multipurpose ball fields, two lighted basketball courts and picnic areas with barbecues.
After months and months of staying inside, being outdoors can make all the difference. Get the kids off the couch and head to any one of these Carlsbad parks to burn off a little energy and feel renewed in the new year.
PS We've been loving our products from Sticker Mule and their weatherproof stickers​ are made to survive the sun, sea, and adventures that our area is known for. Keep an eye out for them on the cars around Carlsbad!