Where to Celebrate One Shell of a Creature on National Lobster Day
Sebastian, Klutzy, and Larry the Lobster are all beloved colorful crustaceans that we grew up loving.
As adults, these 'bugs of the sea' are a delicacy for food lovers and are the pinnacle of fine dining in the seafood world.
The American (or Maine) lobster is found in the Atlantic Ocean. When we salivate over cracking open a lobster claw and dipping the warm meat into a bath of warm butter, these are the lobsters that we imagine as they have large, meaty claws. Lobsters on the West Coast are just as tasty but are a different species. These spiny lobsters have large, spiny antennae, but lack the claws of their Eastern brethren.
Lobster meat is chock full of protein and low on calories. In Colonial times, there were so many of these crustaceans in the northeast that they were considered poor man's food. They were cheap, served as sustenance to prisoners and servants, and even used as fishing bait and to feed livestock. Since then, people have come to love the slightly sweat and chewy texture of the tender meat and it has become much scarcer to come by. Now, ordering lobster signifies special occasions and serves as a centerpiece for fancy meals. The crustacean is so endeared that people have devoted a National Holiday to the animal. Celebrate National Lobster Day this June 15th by visiting one of Carlsbad's many seafood restaurants and treat yourself to a plate of one the most delicious offerings the sea has to offer.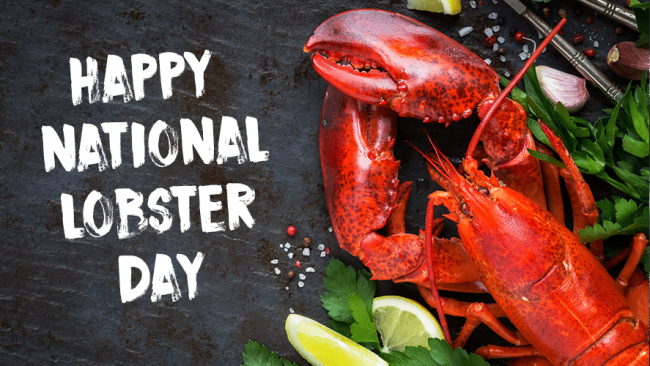 Bluewater Grill
Bluewater Grill is a favorite nautically themed seafood restaurant in Carlsbad. The restaurant prides itself on the freshest sustainable seafood around. Since taking the space from Fish House Vera Cruz, the location has been expanded and updated. It now houses a market, full bar, and space for pets. On National Lobster Day, Bluewater Grill is reconnecting with their New England roots and highlighting the king of all seafood sandwiches, the Lobster Roll. Warm Maine lobster, chopped celery and onions, and light mayo will be served atop an iconic "pull apart" buttered brioche bun. The Bluewater Lobster Bowl and cup of house made New England Clam Chowder will also be available for just $20, a full $10 savings off the combined menu prices.

West Steak and Seafood
West Steak and Seafood is a distinctive restaurant that takes the meaning of farm to table to heart and delivers it straight to Carlsbad's doorstep. The fine dining establishment offers the best of land and sea with vegetables straight from their own farm. For National Lobster Day, you can't choose a fancier location to dine on than crispy lobster spring rolls, Maine lobster bisque, lobster mac and cheese, or South African lobster tails.

King's Fish House
If you ever drive by King's Fish House, then you can't miss their vintage neon sign. The word "Fresh" jumps out and the sign welcomes passersby, with a friendly alert letting them know "Your Ship Came In". Beyond the lighted sign is the restaurant itself. It has recently undergone extensive renovation, making it a brand-new experience for repeat visitors and newcomers alike. King's Fish House was founded on a deep love of seafood and the camaraderie that it builds. From fish markets to coastal villages, the founders of King's Fish House gathered all of the best tricks of the trade and created a spot where guests could rely on fresh seafood every time. You can indulge in the Wild Alaskan Halibut or Wild Mexican Yellowtail year-round, but on National Lobster Day make it a point to dive in and go all out with the Wild North American Hard-Shelled Lobster. You won't be disappointed.
Book a lunch or dinner reservation at any of these locations to make the most of the National Lobster Day on June 15th.