Create Your Summer Playlist with Outdoor Concerts in Carlsbad this Summer
Summertime is all about being outdoors, having fun, and feeling good. Since summertime revolves around good vibes, it's only natural that each summer has its own playlist.
Music is a big part of road trips, pool parties, and grilling outdoors. Finding music to match the joy of summer can form memories for years to come.
It's hot outside and school is out. There are dunk tanks and beach days and steaming asphalt. There's no doubt about it, summertime definitely has a soundtrack that's all it's own.
Movies are larger than life, books become airy and lighthearted, and TV embraces the embarrassing pleasure of 'living your best life'. When it comes to music, summer serves it up outdoors. Summertime music embraces the ups and downs of vacations, steamy afternoons, and evening thunderstorms. From hookups to breakups, flings, and romances, to new places and relaxation - summertime playlists are a sign of the season.
Want to jump-start your 22' summer playlist? Check out these outdoor concerts in Carlsbad this summer:
Live from La Costa Concert Series
The Omni La Costa Resort & Spa knows that summer should last a lifetime. With their new summer concert series, they're making sure that summertime sticks around. Starting on May 14th and lasting until September 25th, the Omni La Costa Resort & Spa is hosting nights under the stars with music to remember.
The concert series takes place in the open-air Valley Promenade overlooking the stage with spectacular views of the rolling hills surrounding the resort. Performers like Patrice Rushen, Tris Imboden Yacht Stars, and Hiroshima are already on the roster for the series. The lineup includes everything from R&B to yacht rock and contemporary jazz. Guests can start the night with a delicious dinner from Omni's newly-reopened VUE restaurant. From there, evenings feature one-of-a-kind coastal breezes and live playlists.
Buy your tickets now to attend a concert Saturdays and Sundays until fall is here.
June Summer Concerts at the Park Hyatt Aviara
During summer, the sun doesn't set until well after dinnertime. This June, the Park Hyatt Aviara takes advantage of the sunlight with their June Summer Concerts. They will be hosting evenings of musical entertainment sponsored by Titos Vodka and Herradura.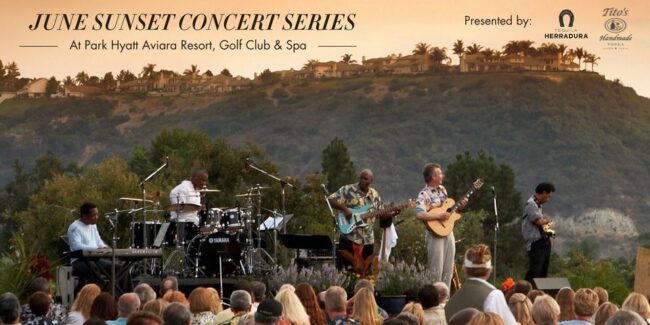 The series offers a wide array of local artists, lighting up the night with everything from the Zach Churchill Band to Cali Conscious reggae. There are four different ticket options available:
General admission tickets - $70
One drink ticket
An antipasto box
VIP tickets - $130
Meet & Greet with artist 5pm to 5:45pm
Welcome Cocktail with chef's special hors d'oeuvre
Reserved front seats
One Drink Ticket
Antipasti Box
Ponto Lago General Admission – $140 Per Person
General Admission Package
3-course dinner at Ponto Lago following the concert
Ponto Lago VIP Admission – $200
VIP Admission Package
3-course dinner at Ponto Lago after the concert
**Ponto Lago 3 Course Menu
Jazz Evensong at St. Michaels
Jazz goes hand-in-hand with outdoor rest and relaxation. This year, St. Michael's Church By-the-Sea is bringing jazz to Carlsbad through their Jazz Evensong programming. Guests can sit on the lawn as the sun sets and prepare for the week ahead with Dene Davidson's Cool Jazz Band.
The soothing sounds of the guitar, drums, bass, piano, saxophone, and flute are the perfect combination for ending a fun summer weekend. Every Sunday at 4 p.m. the oldest church in Carlsbad invites guests to enjoy the freedom and creativity of jazz on the lawn, free of charge. Each event includes a mixture of concert-style jazz mixed with meditation and prayer. Bring a lawn chair, a soothing beverage, and a picnic blanket for an evening of local talent, relaxing sunsets, and space for kids to explore.
TGIF Concerts in the Park
Returning on June 24, 2022, Carlsbad Concerts in the Park are back in action. In 2020 and 2021, TGIF Concert in the Parks were canceled or held virtually due to the pandemic. This year, live concerts are back and stand to be a true highlight of summertime in the city. On Friday evenings for nine consecutive weeks, concerts will be hosted at four of the largest community parks in the city.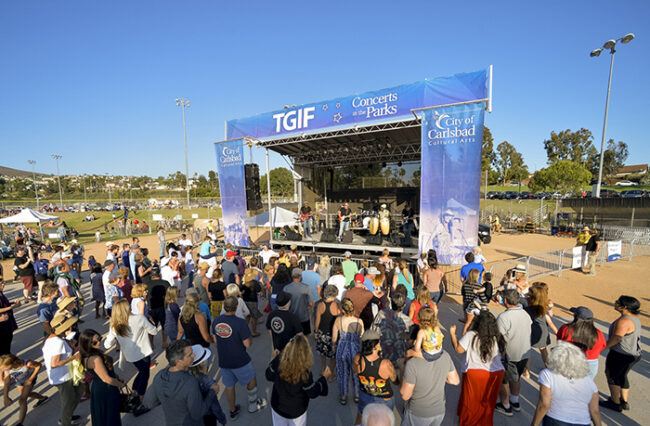 Concerts are free and feature dining al fresco, plenty of space to bring a blanket and spread out, and some of the best live entertainment in the city. Shows start at 6 p.m. and offer a brief intermission around 7. Mark your calendars to visit Stagecoach Community Park, Poinsettia Community Park, Calavera Hills Community Park, or Alga Norte Community Park on Fridays this summer for summertime tunes and outdoor entertainment that can't be matched.
No matter what your taste in music is, there is a playlist for everyone this summer. Visit any of these fantastic outdoor concert opportunities to embrace the soundtrack of summer and add a little color to your time outdoors.