Flower Power Blooms at The Flower Fields in Carlsbad
Get ready to live colorfully as The Flower Fields at Carlsbad Ranch are officially open for business.
The famous blooms are one of the most vibrant and spectacular displays of natural beauty that spring has to offer.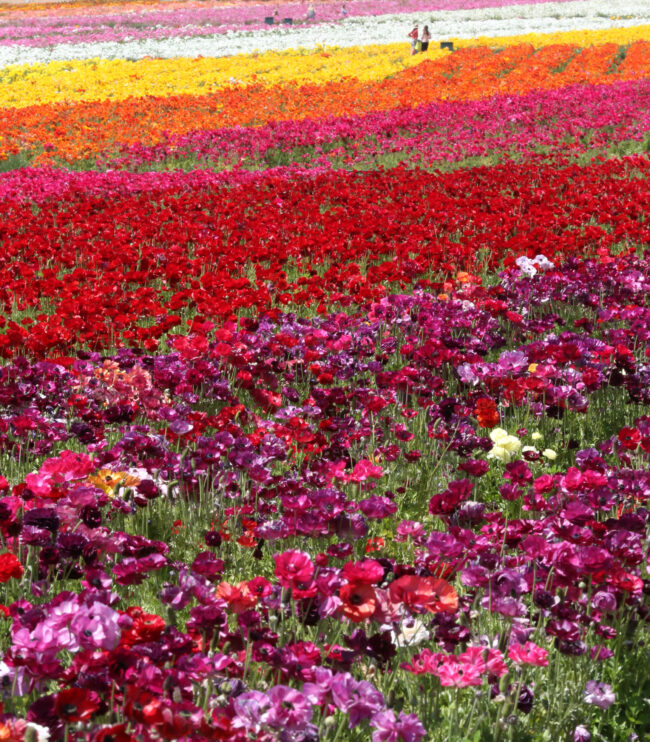 For over sixty years, the rolling hills of Carlsbad have been home to a 55-acre rainbow of Giant Tecolote Ranunculus. Their double-petaled blooms sitting atop tall, straight stems are truly one of the country's most stunning and coordinated displays of natural color and vibrancy.
When you visit this breathtaking wonderland, you'll be greeted by the sweet fragrances of these awe-inspiring flowers. The endless rows of color-coordinated blooms exude joy and wonder. From the brilliant oranges, fiery reds and sunshine yellows to the delicate pinks, dreamy purples and pristine whites, these radiant colors will immerse you in a floral paradise many have only seen on Instagram.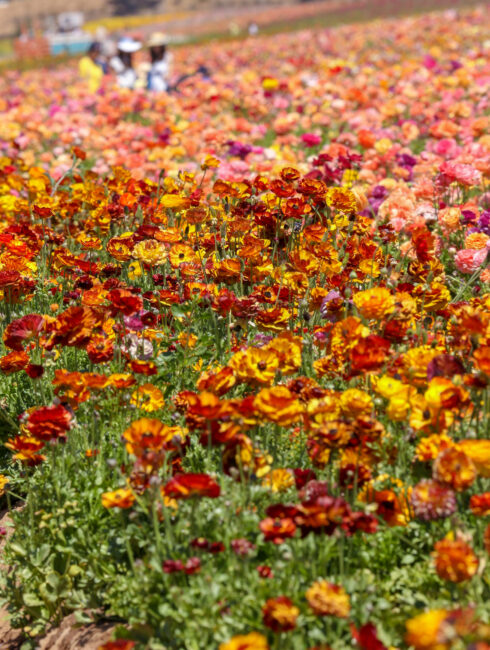 But that's not all - The Flower Fields are more than just a feast for the eyes and nose. It's also an opportunity to indulge in a host of spring activities and events. There is everything from outdoor music performances and foodie favorites to workshops, yoga classes and more!
Whether you're looking to escape into nature's splendor, enjoy a romantic date, create unforgettable family memories or even pop the question, The Flower Fields have the perfect backdrop.
The 2023 season's theme is "Live Colorfully" and that sentiment includes the color of beauty, of rebirth and of joy. Fred Clarke, the General Manager of The Flower Fields at Carlsbad Ranch, says, "Visitors can't help but smile here."
The fields offer a plethora of events and activities to inspire guests to embrace the theme. Visitors can take part in a Meditation and Sound Healing Workshop, a Flower Design Workshop or Toddler and Me Yoga Story Time about plants and flora.
If you're a fan of fan favorites, you'll be pleased to know that the outdoor music series, Tea in the Garden and Flower Flow Yoga will make a comeback. Other experiences that visitors can look forward to include the American Flag of Flowers, Tractor Wagon Ride, Artist Gardens, Sweet Pea Maze and Cymbidium Orchid Greenhouse.
This season will also feature several special events, starting with Kid's Day on Saturday, March 25. This will be followed by a Canon Photography Workshop on Sunday, April 16 and the season will end with the iconic Mother's Day Celebration on Sunday, May 14.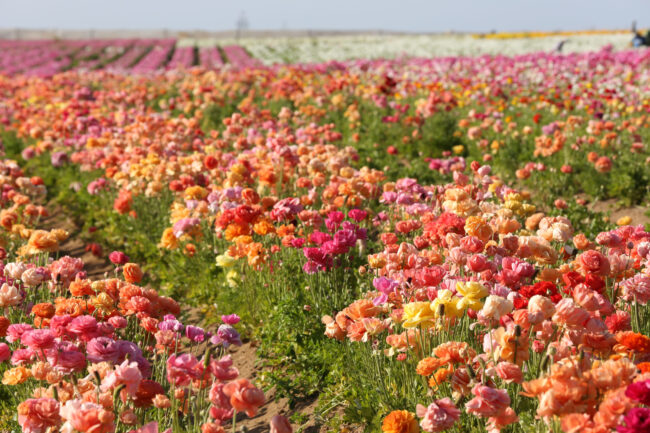 Single ticket admission costs $23 for adults, $21 for seniors 60+ and military and $12 for children between 3-10 years old. Children under three can visit for free, while season passes are available at $48 for adults, $44 for seniors 60+ and $24 for children 3–10. Group tours can also be arranged, and private events are available for booking throughout the year.
The Flower Fields at Carlsbad Ranch is a sustainable working farm that contributes to California agriculture and related jobs. Located less than a half-mile from the ocean, within five minutes of several prominent hotels and a short drive from two international airports (Orange County and San Diego), the fields are easy to get to.
Tickets are available online and it's important to remember that the Flower Fields are only open for a few months each year. With a new menu of things to do, there's never been a better time to plan a trip to Carlsbad. Book your tickets here.