Living Remotely? Call Carlsbad Your Home Away From Home
Vacations are a luxury no matter where you come from. Forgetting about the responsibilities of everyday life and devoting your time to new experiences and relaxation is a breath of fresh air.
Usually, vacations need to be planned months in advance. You have to notify your employer, find time between due dates, and figure out how to add travel time to and from your destination.
If you have kids, it is important to schedule vacations when they are out of school. All things considered, this can sometimes leave families only a few weeks of the year to plan a getaway. In 2020, a lot of what we are used to has changed - especially vacations. The pandemic has transformed how we socialize, eat, work, and commute. Companies are now approaching work in new ways. Work from home models have become more commonplace and schools are implementing remote learning. That begs the question - if you're free to do everything from anywhere, why be stuck at home? In Carlsbad you can turn your vacation destination into a temporary home where you can work and vacation all in one spot.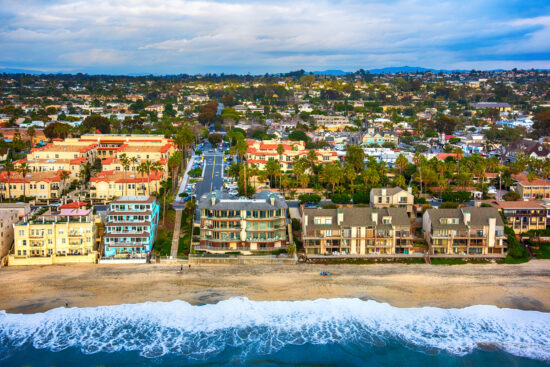 Aerial view of condos lining the beach in the northern San Diego community of Carlsbad, California.
The first step to setting up the dream work-from-anywhere lifestyle in Carlsbad is finding a place to stay. Luckily, Carlsbad is home to a number of resorts, hotels, and condominiums for day trips, vacations, extended stays and everything in between. With WiFi, kitchenettes, and the Pacific Ocean nearby, making yourself at home is easier than you'd expect. Bring the whole family or escape for a few weeks of solitary relaxation at one of the many accommodations along the coast. Carlsbad Seapointe Resort is a Grand Pacific Resort with exclusive views, spacious rooms, and access to everything Carlsbad has to offer. Their exclusive all condominium resort rests beside the Pacific Ocean and offers upscale amenities for all walks of life. Ocean Palms Beach Resort is another great option for an extended stay. The tropical grounds and island decor are complimented with spacious accommodations and water views.
Once you're here, you will find that there is plenty to do during your down time. As soon as you log off for the day, the options are limitless. With the Pacific Ocean spanning the length of the city, hitting the sand after a day of online meetings can be therapeutic. Take a board and hit the waves at Tamarack State Beach. With parking, restrooms and wide expanses of sand, family and friends can camp out and relax while you dive in and surf the waves.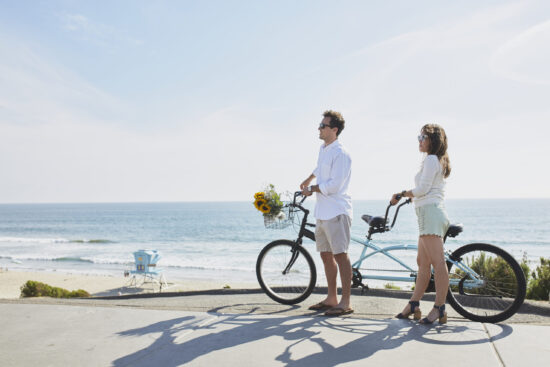 If you want to hit the trails, the scenery at Calavera Hills and in Hosp Grove are second to none. Pack a snack and a bottle of water and get your steps in while soaking in the sunshine and ocean air. At Calavera Hills, there is a good chance you will see red shouldered hawks along the narrow canyon path and through the eucalyptus grove. Hosp Grove is home to even more mature eucalyptus trees and has one of the most extensive trail systems in the city. It is an unpaved trailhead that gains over 100 feet in elevation. At the top, you can enjoy views of Batiquitos Lagoon and the Pacific Ocean. The park is littered with mediterranean flora and fauna and the trails give visitors a welcome break from the city.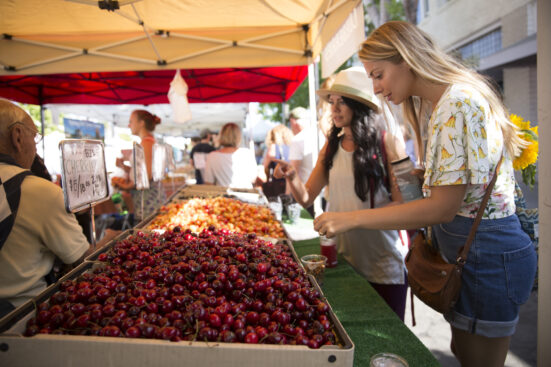 For eating and shopping, there is no better place to experience our city's community than in the Village. The Carlsbad Village is home to a laundry list of boutiques and restaurants for every day of the week. The State Street Farmers Market is open every Wednesday. It has local food and artful neighborhood vendors at every corner. The Farmer's Market is a great place to get outside, get some air, and enjoy your home away from home. In spite of the pandemic, the Village has plenty of eateries that are offering outside dining, take out, and curbside pickup. You can start the day with a pastry from Succulent Cafe or Super Donut. During lunch break you can pick up an authentic California burrito from Senor Grubbys, Mas Fina Cantina, or Pollos Maria. Wrap your evenings with exquisite cuisine from Campfire or Gregorio's Italian Restaurant and a glass of wine from Witch Creek Winery. With all of the options, you will have new food to try no matter how long your stay.
The Cassara Carlsbad, Tapestry Collection by Hilton and the Sheraton Carlsbad Resort have introduced a brand new Work, Learn, & Play Package for guests to enjoy working and learning remote while relaxing in coastal Carlsbad fashion. Curated for working-from-home-adults and students who are distance learning, the Work, Learn & Play package offers guests the opportunity to mix business with pleasure. The package provides guests with a convenient and peaceful space to work and learn in with the comfort of the resort's clean and safe environment. Reservations for The Cassara Carlsbad can be made by calling (760) 827-3232 and mentioning Work, Learn & Play. Booking at the Sheraton Carlsbad Resort can be made online by visiting http://sheratoncarlsbad.com/ with CODE MAJ or by calling (800) 444-3515.
It's no secret that the pandemic has been hard on everyone. Make your pandemic life easier by booking a stay in Carlsbad and enjoy a remote lifestyle in one of Southern California's finest cities.