Carlsbad, CA: The Ultimate Wedding Destination
Weddings are, by definition, a cause for celebration. When it's time to ring the wedding bells and make a lifetime commitment, it's time to party.
Weddings come in all sorts of different shapes and sizes – from religious ceremonies to beachside vows and eloping under the stars.
No wedding is too big or too small to celebrate. A wedding marks a strong promise full of hope. A vow to do life with the person you love. Whether you rush through the paperwork to get on with the party or create a long ceremony to declare your vows, the beauty of a wedding deserves to be surrounded in beauty.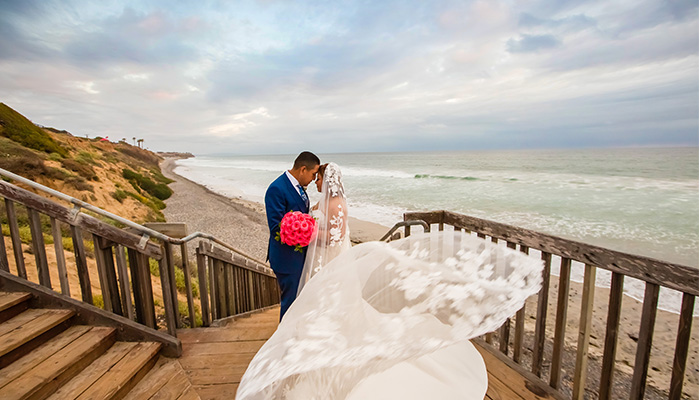 There are a million details that go into making a wedding day perfect. And when it comes down to it, the destination can be the deal breaker. Luckily, if you're looking for a wedding location that has perfect weather year round, sun for days, and romance dripping from its small town charm, Carlsbad really is the ultimate place to get hitched.
Check out one of these beautiful venues for a dream Carlsbad wedding:
Park Hyatt Aviara
World-class food and drinks, activities for guests, and jaw dropping views. These are what the Park Hyatt Aviara are all about. The resort has sophisticated decor with multiple outdoor spaces to plan your special day on the coast. At Park Hyatt, dream weddings become a reality with over 200 acres of rolling hills and botanical wetlands. Combined with over 200,000 square feet of indoor event space, the resort has everything you could ever want for a ceremony and reception that is perfectly personalized and expertly executed.
Omni La Costa Resort and Spa
At the Omni La Costa Resort and Spa, an idyllic Southern California wedding is within reach. This location serves up world-class accommodations with stunning scenery to showcase the quaint and quiet beauty that surrounds Carlsbad. There are secluded pathways that stretch between gardens and palm trees for a calming canopy against the bright skies. With ballrooms boasting 18" ceilings, golf course views, romantically lit terraces, Spanish style courtyards, and open air verandas with pristine landscaping, the Omni La Costa truly is a bride's dream and a wedding goer's getaway.
Cape Rey Carlsbad
The third on our list of wedding wonderlands is none other than the Cape Rey Carlsbad, right on the coast. The Cape Rey is Carlsbad's unique and distinctive option for brides. They are positioned only 150 feet from the beach. Couples can take off their shoes and say 'I do' in the sand, or stay on top of the crest with views to die for. Happily ever after has never been easier than booking a wedding at the Cape Rey. With accommodations for guest rooms, rehearsal dinner, and farewell wedding brunch all under one roof, Cape Rey takes the guesswork out of the equation. Couples can enjoy breathtaking views of the Pacific Ocean and breathe in the fresh ocean air while celebrating the night away. Contact the events team to inquire about packages for your big day.
The Westin
The Westin Carlsbad Resort and Spa is another elegant wedding venue location. The contemporary Mediterranean landscape is supported by a skilled events team and spaces to accommodate up to 500 wedding guests.
The seaside resort features state-of-the-art facilities on several beautiful locations throughout the property. There are two outside view coastal ceremony sites, surrounded by white roses, and tropical trees. The resort also has a new Grand View Atrium Ballroom and adjoining Terrace that offer ocean views.
The Carlsbad Windmill
The Carlsbad Windmill has been a landmark of Carlsbad for decades, and now it's been completely renovated and reimagined into a stunning wedding & events venue. The venue seats up to 200 indoors and 100 outdoors, has a modern chapel-style ceremony space, an outdoor terrace, and supports beachside ceremonies as well.
'I do' is the time in your life that you'll never want to say 'I can't. In Carlsbad, you can have the wedding of your dreams in the city of your dreams. Make the most of it and start planning now - your ultimate wedding is around the corner.