Ember & Rye - the Latest from Richard Blais
If you're a foodie, or you're just fascinated by competition and insider tips and tricks - celebrity food shows are the guilty pleasure that you can indulge in without counting calories.
While we've all been stuck inside, food shows let us watch someone else cook while we relax.
Shows like 'Street Food' and 'Chef's Table' give us a window into the places that we wish we could visit. Now that we've had almost a year to stream all of the food shows we can stomach, many restaurants have started opening back back up.
If you are a food show aficionado and can't wait to get back to your favorite restaurants, Southern California is the place to be. From Food Network stars to best-selling cookbook authors and world-famous culinary elites, San Diego is home to some of the finest chefs around. Here in Carlsbad, we are excited to welcome Food Network and Bravo Top Chef's own Richard Blais to our sun-kissed coast. On March 18, Richard Blais and executive chef William Griggs launched Ember & Rye right in the heart of the Park Hyatt Aviara - and it's a can't miss for restaurant goers.
Many recognize Blais for his win on Top Chef All-Stars. However, he has over 15 years of hospitality experience, including training from the Culinary Institute of America in New York. Early on, Blais learned from the best. He spent time at French Laundry in Yountville, California under renowned Chef Thomas Kelelr, cooked alongside Chef Daniel Boulud at Restaurant Daniel in New York City, and worked overseas with Ferran Adria in Roses, Spain. For years, Blais has worked to push creativity in the kitchen. Upon returning to the United States, he launched a suite of popular eateries throughout Atlanta via his culinary company Trail Blais. From Atlanta, Richard ventured westward and opened Juniper and Ivy in San Diego. While no longer affiliated with Juniper and Ivy, the West Coast restaurant has been recognized for providing a new look at seasonal freshness and local ingredients. Blais has also published a cookbook entitled 'Try This at Home: Recipes from My Head to Your Plate' that has been nominated for a James Beard Foundation Award and recently appeared on 'Cook Your Ass Off' on HLN.
Needless to say, Richard Blais knows his stuff. Which is why, when the Park Hyatt Aviara announced that he would be collaborating with them on an immersive dining experience - excitement started brewing. Now, almost a year later, renovations at the resort are complete and Ember & Rye is open to the public.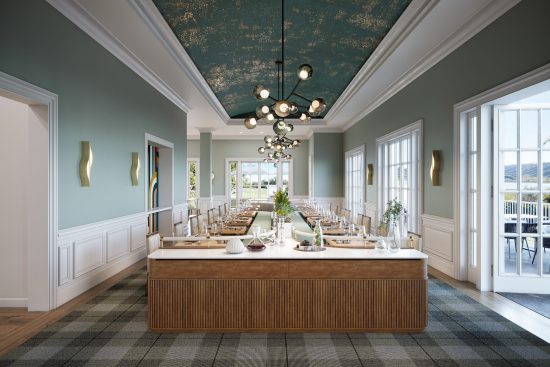 From the outside, the restaurant is vibrant. Saturated, fun colors play alongside soothing coastal vibes. Black and brass accents anchor the color palette with tasteful elegance. From the second you enter, you can feel the upscale yet welcoming marriage of modern and vintage decor. Right inside the entryway, a bar with an interactive Chef's station features small plates to whet your appetite. Combined with an extensive Whiskey Library, these are just the beginning of a number of small delights that Ember & Rye delivers.
Beyond the entryway, there are two large dining rooms radiating with natural light. The first dining room has wrap-around full-length windows, leading to the second dining room that has direct access to the outdoor dining terrace. If the team behind Ember & Rye knew one thing, they knew that the coastal Carlsbad weather is something to be enjoyed. The outdoor terrace has two bocce ball courts and miniature golf holes. Guests can watch their food being prepared at an outdoor grilling station that is fueled by natural energy sources.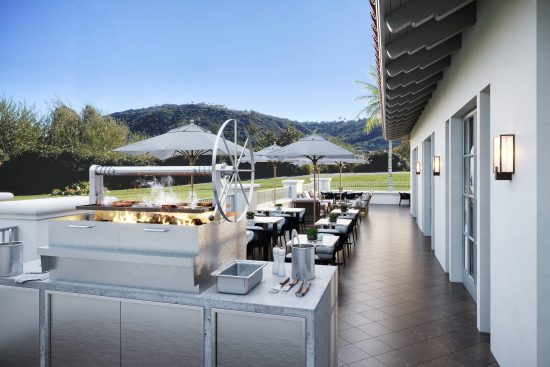 And, if the ambience and the allure of the restaurant isn't enough to make you want to pay a visit - the menu is definitely worth the trip. The food gives nod to the natural beauty that surrounds the restaurant. The dishes are a new, creative take on classic California cuisine. Steaks, fresh seafood and seasonal vegetables lead the way. The staples are a throw-back to vintage California steakhouses with innovative new taste profiles and contemporary prep work. Grilled entrees include rare cuts of Japanese A-5 beef and decadent vegetable sides like baked celery root.
The small delights are in the service, too. There are personalized presentations of sauces to accompany entrees. The sauces are a surprising bonus - homemade options like Jalapeno Salsa Verde join a list of unique flavors that diners don't typically expect alongside steak and seafood.
Beyond everything else, Ember & Rye is founded both in the innate talents of Richard Blais and his team - and in the community as well. Ember & Rye has a stark commitment to sourcing ingredients locally and supporting farmers throughout Southern California. With sustainability at the forefront of their mission, Ember & Rye paves the way for high-end cuisine with responsible outcomes.
Make a reservation today to try out one of the newest and most esteemed restaurants in Carlsbad at the Park Hyatt Aviara. Your taste buds will thank you.