Festive Feasts for the Holidays in Carlsbad
If you're looking to celebrate Christmas in style this year, Carlsbad has a range of dining events that will make your holiday season special.
Whether you're looking for a romantic dinner for two, a festive brunch with friends and family or a lavish holiday feast, there's something for everyone.
From traditional dinners to festive brunches, here are some of the top Christmas dining events happening in Carlsbad this month:
OMNI LA COSTA RESORT & SPA: CHRISTMAS EVE DINNER AT BOB'S STEAK & CHOP HOUSE
Christmas Eve Dinner at Bob's Steak & Chop House is an elegant way to celebrate the holiday season. Held at the luxurious Omni La Costa Resort & Spa, this dinner will be served on Saturday, December 24 from 5:00 PM to 8:00 PM. It will feature appetizers such as shrimp platters and Maryland-style crab cakes, entrees including dry aged pork tomahawks and prime filet mignon and delicious sides like roasted brussels sprouts and creamed spinach. For dessert, guests can choose from a selection of cheesecake, key lime pie and carrot cake.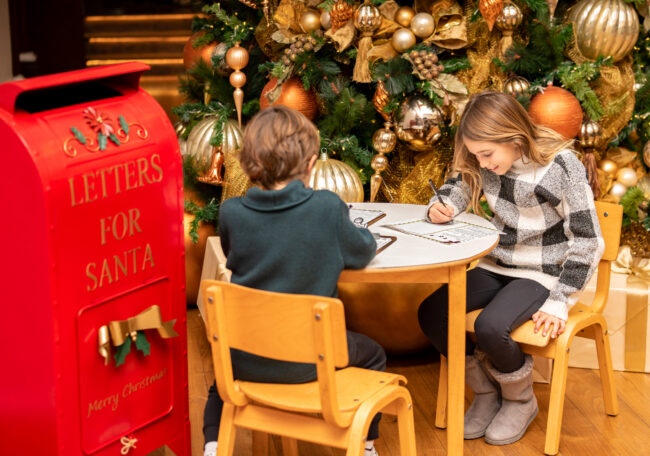 Book a table today to enjoy the seasoned expertise of Bob's Steak & Chop House chefs with this special holiday menu.
Bob's Steak & Chop House is located at 2100 Costa Del Mar Road in Carlsbad. Phone (760) 929-6348.
PARK HYATT AVIARA CHRISTMAS EVE AND CHRISTMAS DAY: EMBER & RYE + PONTO LAGO
The Park Hyatt Aviara Resort, Golf Club & Spa is offering multiple incredible Christmas dining events this year. Ember & Rye will feature specialty Christmas Eve and Christmas Day dining offerings. This includes a Brunch and a Chef's Style Special Feast on Sunday, December 25. Brunch will showcase carving and omelet stations, a seafood display, delicious desserts and more. The Feast will be an inclusive four-course family style serving with all of the classic holiday favorites.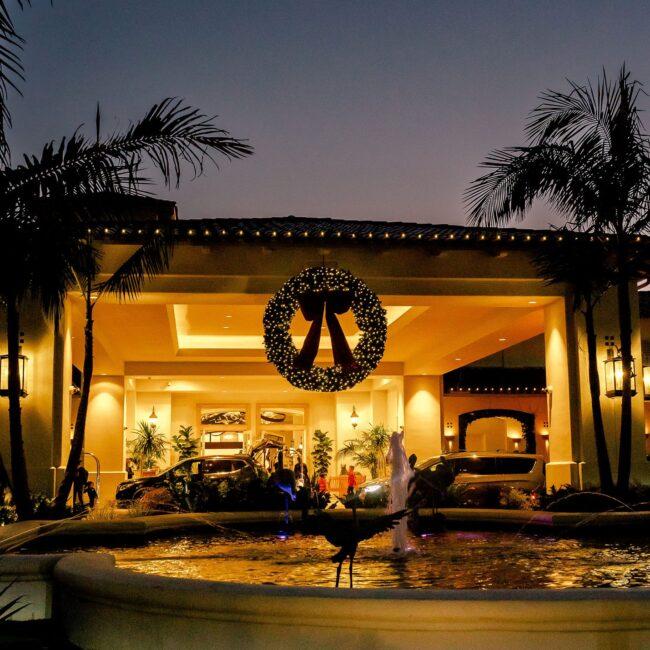 Ponto Lago at Park Hyatt Aviara will offer Christmas Eve and Christmas Day dinners with an elegant and upscale experience. The menu includes dishes such as wood-grilled sea bass, roasted prime rib and Tronco de Navidad dulce de Leche. Dinners will be served from 5:00 p.m. – 9:00 p.m. each night.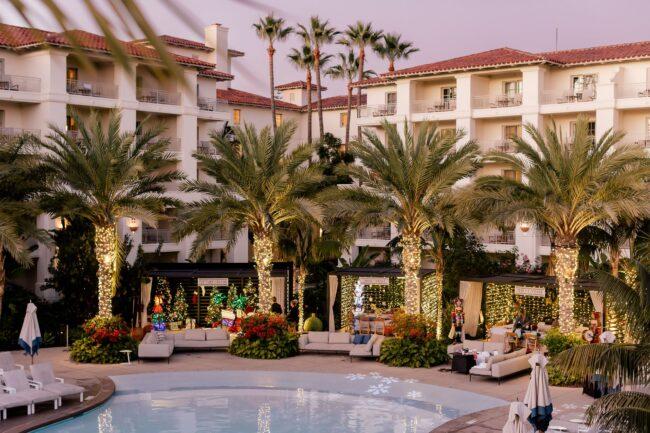 Both locations are sure to serve up an unforgettable experience – be sure to book your reservation now.
The Park Hyatt Aviara is located at 7100 Aviara Resort Drive in Carlsbad. Phone (760) 448-1234.
CAPE REY CARLSBAD BEACH, A HILTON RESORT & SPA: OCEANFRONT HOLIDAY DINING AT CHANDLER'S
If you're looking for an oceanfront setting for your Christmas dining, Chandler's at Cape Rey is the place to be. There will be two dining options at Chandler's including a special Christmas Eve Prix Fixe Dinner and a festive Brunch on Christmas Day.
On Saturday, December 24 from 4:00 PM to 8:00 PM., Christmas Eve Dinner will feature a four-course prix fixe meal with a variety of delicious holiday dishes. There will be a muse followed by a first course, including a choice of Maine lobster bisque or butternut squash soup. The second course features a winter salad. The third course offers entrees such as pan-roasted prime beef tenderloin, lobster-stuffed salmon florentine or seared duck breast. A vegetarian option is also available. For dessert, guests can choose from pumpkin crème brûlée, apple tart or almond cake.
On Sunday, December 25, guests can also enjoy a delectable Christmas Day Brunch. The buffet will be served from 1:30 PM to 6:30 PM and features a variety of holiday dishes. The Chilled Seafood Station will include large Mexican prawns and half-shell oysters, while the Salad Station will serve a mixed greens salad bar and wild rice salad. The Carving Station features Diestel natural whole turkey, slow-roasted prime rib of beef and whole roasted salmon filets. The buffet also includes a variety of sides and a dessert buffet with pumpkin pie, apple pie and other treats.
Don't miss out on either of these holiday meals by the beach – make your reservations today!
Chandler's at The Cape Rey Carlsbad Beach is at Ponto Road in Carlsbad. Phone (760) 683-5500.
THE WESTIN CARLSBAD'S 20|TWENTY: TRADITIONAL HOLIDAY DINING
For those who prefer a more traditional dinner, the Westin Carlsbad 20|Twenty Christmas Eve Dinner is a great option. Held at the Westin Carlsbad Resort & Spa from 5:30 p.m. to 10:00 p.m., this dinner features a prime rib special with prime ribeye roast, potato gratin, green beans and glazed carrots.
On Christmas Day, the Westin Carlsbad 20|Twenty will also be offering a festive dinner from 4:00 p.m. to 9:00 p.m. with classic options to choose from. Entrees include prime ribeye roast, pan roasted Chilean sea bass or winter squash wild mushroom quinoa. Dessert is a Yule log. Guests can add a 3-course wine pairing to their meal.
20|Twenty is located at 5480 Grand Pacific Drive in the Westin Carlsbad.. Phone (760) 827-2500.
CAMPFIRE AND JEUNE ET JOLIE: A CAMP JEUNE CHRISTMAS DINNER
Finally, for those looking for a more intimate dining experience in the comfort of their own home, Jeune et Jolie Christmas Dinner is a great option. As a French-inspired restaurant located in the heart of Carlsbad, Jeune et Jolie's menu features a variety of classic French dishes with a modern twist, using the finest ingredients and expert techniques. On Christmas Eve, they will be offering a special Christmas dinner for pickup. The dinner serves three people and includes dishes such as a little gem salad, brussels sprouts and maitake mushroom, milk bread, celeriac potato gratin, and smoke-roasted bone-in beef rib. The meal also includes mom's carrot cake and cookies for dessert. For an additional fee, guests can add on extras such as shrimp cocktail, chips and dip, Christmas morning french toast, and hot cocoa. Don't spend the holiday cooking and cleaning – let Jeune et Jolie take care of it all.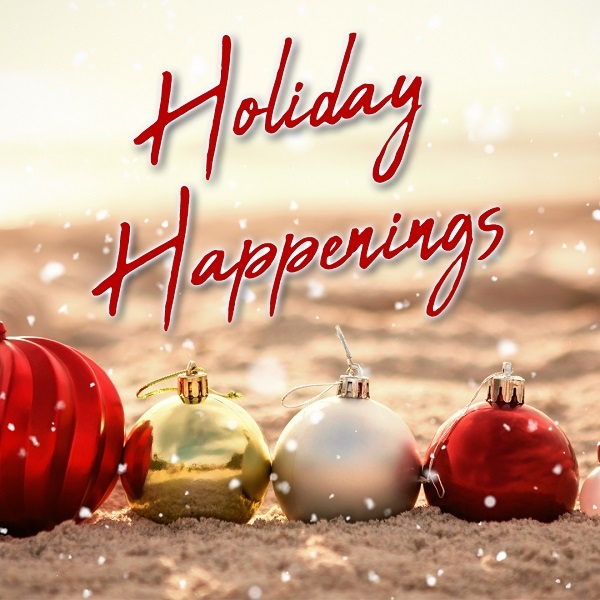 Jeune et Jolie is located at: 2659 State St Suite 102, Carlsbad, CA 92008.
With so many incredible Christmas dining options available in Carlsbad this year, it's the perfect time to plan a holiday trip to our beautiful and festive city and spend time with friends and family. Make your reservations today and start planning your perfect holiday dining experience.