Celebrate the Holidays Throughout Carlsbad
'Tis the season to be jolly! The most wonderful time of the year is finally here! Holiday lights are up, the smell of fresh pine is in the air and families and friends are coming together to celebrate and relax.
Our holiday traditions build bonds and reinvigorate a sense of giving in the community.
With activities for the whole family, decorations, and Santa - what's not to love? Here are some great ways to jump in and experience the magic of the holidays in Carlsbad this December:
Cape Rey: Festive Countdown to Christmas
Cape Rey Carlsbad Beach, a Hilton Resort and Spa, is spreading the cheer this holiday season with five full days of celebration. Resort guests and locals can join in this countdown to Christmas! All activities are held from 4 p.m.-7 p.m at the resort.
On Monday, December 19, the Cape Rey lobby will be full of live holiday music performed in the lobby, complimentary hot cocoa and snacks at the 'Buy One for Santa, Get One for Elf' Holiday Happy Hour.
Tuesday, December 20 will feature 'Ugly Sweaters & Pretty Ornaments' where guests can decorate ornaments and holiday cards while enjoying hot cocoa and cookies. Santa has been invited to take pictures with the kids.
On Wednesday, December 21 , there will be a movie night, showing the holiday classic "A Christmas Story". Guests can wear their favorite Christmas pajamas and enjoy hot cocoa and flavored popcorn while watching the movie in the ballroom.
Thursday, December 22 will be 'Cookie Decorating & Letters to Santa'. Sugar cookies will be provided with all the materials needed to craft the perfect letter to Santa. Santa's mailbox will be on display to make sure letters are delivered before Christmas. Complimentary hot cocoa will be served.
Lastly, on Friday, December 23, the air will be full of holiday cheer with 'Carolers & Cocktails'. This night, suited for adults, will serve up a prix fixe small bites menu and holiday cocktails as carolers stroll through the lobby.
Cape Rey is located at 1 Ponto Rd., in Carlsbad. Phone (760) 683-5500.
Park Hyatt Aviara: Cabana Christmas Village, Teddy Bear Tea
This year at the Park Hyatt Aviara Resort, Golf Club & Spa, the holidays are all about ambience. The inaugural year of the Cabana Christmas Village embraces all of the holiday feels. The Splash Pool will transform into a winter wonderland with crafts, carolers and visits from Santa. Cabanas will offer family-fun activities including ornament making and cookie decorating. These activities are free and open to resort guests and the public. The Cabana Christmas Village will be open until Saturday, December 31 from 2 p.m. - 6 p.m. daily. Also indulge in holiday-themed food and beverage offerings at the pool.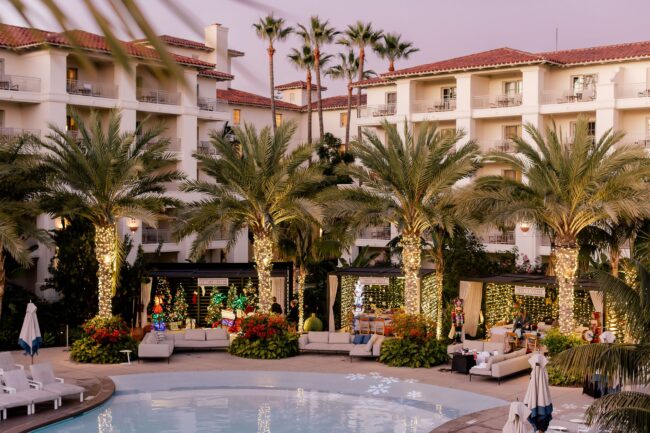 Snap a photo with Santa on the following dates from 2 p.m. - 4 p.m.:
Saturday, December 10
Wednesday, December 14
Saturday, December 17
Wednesday, December 21
Saturday, December 24
In addition to the Cabana Christmas Village, Park Hyatt Aviara will be hosting two holiday- themed tea events - the Teddy Bear Tea will feature entertainment from the Peppermint Princess; High Tea will offer traditional tea service with holiday-themed food throughout the month.
Park Hyatt Aviara is at 7100 Aviara Resort Drive in Carlsbad. Phone (760) 448-1234.
Omni La Costa: Snow Days, Santa, S'mores and More
When you think about Christmas in Southern California, you probably don't think about snow. At the Omni La Costa Resort and Spa, guests can experience a rare Southern California 'snow day' all throughout the month of December. Each of the Omni La Costa's restaurants will be participating with snow events at VUE, Bar Traza, Bob's Steak & Chop House and outside around the firepits.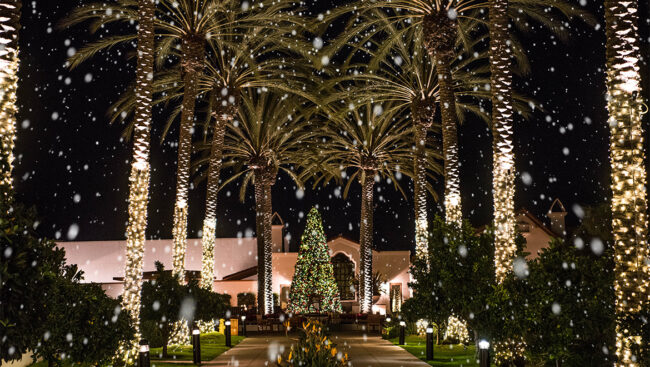 After the snowfall, the Omni La Costa will be warming up with a cozy family Poinsettias and Pancakes brunch on Sunday, December 18 from 8 a.m. - 2:30 p.m. Brunch will star jolly Old Saint Nick, the Poinsettia Princess and other fun characters. Enjoy photos with Santa, family-friendly activities and delicious holiday favorites.
But that's not all. The Omni La Costa also has a full month of holiday activities planned including Home for the Holidays meal boxes, Holiday Artisan Markets, spa specials, seasonal fireside s'mores and more.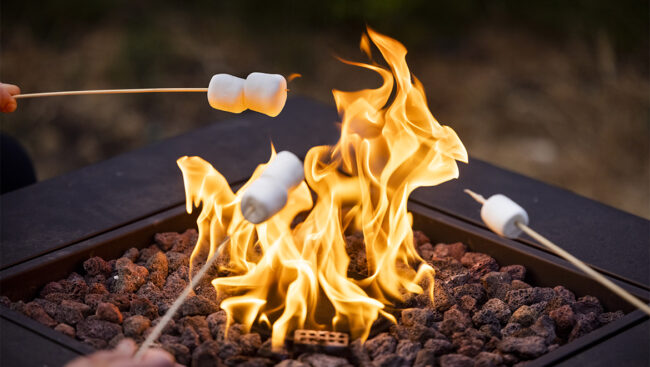 Omni La Costa Resort and Spa is at 2100 Costa Del Mar Road in Carlsbad. Phone (760) 438-9111.
Sheraton and Westin Carlsbad Resort: Holiday Nights Family Fun
Nighttime is when the holidays really come to life. Holiday lights brighten the sky, and the chilly weather keeps everyone together to stay warm. At the Westin Carlsbad Resort & Spa and Sheraton Carlsbad Resort & Spa, Holiday Nights from 4 p.m. to 7 p.m. on Sunday, December 18 will feature all of the traditional favorites - from carolers and live music to holly trolley rides, stocking decorating, pictures with Santa and complimentary hot cocoa. The cost is $8 per activity or $20 for all.
The Westin Carlsbad Resort & Spa is at 5480 Grand Pacific Drive and the Sheraton Carlsbad is at 5420 Grand Pacific Drive.
The Forum Carlsbad: Winter Wonderlights, Santa Letter Writing and Chanukah
As the holidays approach, it's time to 'shop 'till you drop'. At The Forum Carlsbad, shopping is more than just spending money - it's an experience. During the holiday season, the Forum Carlsbad is filling the month of December with activities to countdown to Christmas.
The Forum Carlsbad will feature a Winter Wonderlights, a festive light show with a magical snowfall, from 5 p.m. to 8 p.m. on Friday, December 16 and Saturday, December 17. From 4:30pm to 6 p.m. on Wednesday, December 21, join Chabad La Costa for a Chanukah Celebration with a Lighting of the Menorah in the Courtyard. There will be games for children and complimentary refreshments.
On Saturdays and Sundays (through Sunday, December 18), Santa will be visiting the Forum through Sunday, December 18 from 1 p.m. to 5 p.m.in the Garden Area. Through Friday, December 23, children can drop their wish lists and letters to Santa in a special mailbox outside of Geppetto's. The elves at The Forum will make sure the letters are delivered to the North Pole!
The Forum Carlsbad is at 1923 Calle Barcelona in Carlsbad. Phone (760) 479-0166.
The Shoppes at Carlsbad: Pictures with Santa and the Gift of Giving
One of the most joyful things you can do during the holidays is to share your blessings with gifts and acts of service. The Shoppes at Carlsbad are taking the joy of giving seriously, partnering with Feeding America to help support communities with the gift of food during the holidays.
Through Saturday, December 24, if you spend $200 or more at participating retailers, a $20 donation will be made to a local food bank through Feeding America. Shop for loved ones and also snap a photo with Santa who will be at The Shoppes at Carlsbad through Saturday, December 24 before he leaves back to the North Pole. Book a time with Santa online and also receive a call from Santa too!
The Shoppes at Carlsbad is at 2525 El Camino Real in Carlsbad. Phone (760) 444-0620.
Plaza Paseo Real: Enjoy a Holiday Spectacular
We know that the holidays are spectacular, but at Plaza Paseo Real, the 'Spectacular' comes to life! On Sunday, December 11 from 11 a.m. to 1 p.m, Paseo Paseo Real will be hosting a special event featuring a special visit from Santa. Celebrate the season with lots of family fun by taking photos with Santa, making holiday crafts, balloon art, face painting and much more.
Plaza Paseo Real is at 6941-6985 El Camino Real in Carlsbad.
LEGOLAND: Experience the Jolliest Time of the Year
LEGOLAND is a mecca of fun all year round. During the holidays, LEGOLAND lights up until Sunday, January 8 to celebrate the jolliest time of the year throughout the entire park and resort. Meet your favorite holiday characters, check out the LEGO Christmas tree with over 400 LEGO ornaments, a holiday light show with falling "snow" and enjoy seasonal treats and shows throughout the park. Get your ticket now to start planning your visit!
LEGOLAND California Resort is at One Legoland Drive in Carlsbad. Phone (888) 690-5346.
Carlsbad Village: Interact with a Unique Holiday Light Installation
Experience pathways and color play on State Street in Carlsbad Village from 5 p.m. to 10 p.m. nightly from Saturday, December 10 to Monday, December 26. Pop Up Art: Colors of the Season, a unique and innovative temporary public art installation, will bring the colors of the season to the Village.
The installation, by artist Lauren LeVieux, is an interactive experience that changes over the five-hour period each night. Depending where you are experiencing the installation, the scene and colors can be different. Located on the east side of the 2900 block of State Street, close to Grand Avenue, the light play will illuminate and transform the sidewalk into a wintery pathway the public can interact with and enjoy.
Yoga Your Way: Give Back to Local Organizations
On Saturday, December 17 and Sunday, December 18, Yoga Your Way is continuing the gift of giving by partnering with the Carlsbad Women's Shelter and the Carlsbad/North County Animal Shelter. All you need to do is simply register for the class online and bring a donation to either or both organizations on the day of the yoga to receive a complimentary class!
Yoga Your Way is at 4700 Bayshore Drive in Carlsbad. Phone (760) 415-2402.