Happiness is a Shore Thing at Carlsbad Beaches
Feeling the salt tickling your nose and the sea breeze in your hair are two quintessential parts of summertime. No matter how far you live from the beach, the coast's healing powers and endless sunshine are things that can't be replaced by hanging out indoors.
This year, we are all trying to navigate summer with new ideas and different routines. In the midst of everything, getting outside has become more and more important.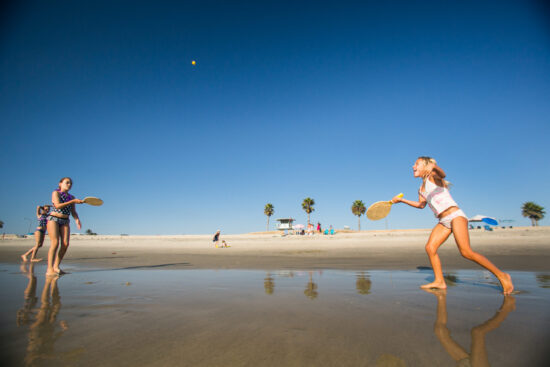 While warm weather typically gives us all the motivation you may need to explore the great outdoors, getting some fresh air and staying active during these times is especially important. Carlsbad has over 7 miles of pristine beaches. This means that if you are in Carlsbad, your summer break can still feel like a vacation, even if you can only escape the house for a few hours. Depending on your mood, the beaches along the Carlsbad coastline can be your place to catch waves, stretch out and relax, let the kids run around, or take a long walk. Here is a guide to Carlsbad's beaches and some tips about how to enjoy them safely, even during these difficult times.
South Carlsbad State Beach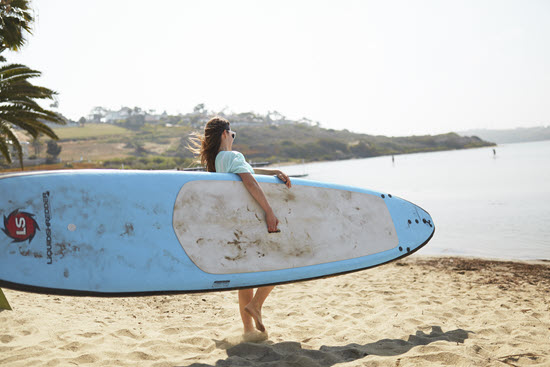 South Carlsbad State Beach is known for its extensive camping area. With over 200 sites available, South Carlsbad State Beach reaches from La Costa Avenue to Palomar Airport Road and consists of North Ponto and South Ponto beaches. North Ponto Beach has the convenience of two free parking lots, public restrooms, and showers. Backed by steep bluffs, the beach is popular among surfers. It contains a mixture of sand and rock but is big enough to spread out and socially distance while strolling along the coast. South Carlsbad Beach borders the city of Encinitas and Carlsbad. This beach is much wider than North Ponto Beach, attracting larger groups. There is a paid parking lot as well as free spaces located along Coast Highway. This beach is ideal for sunbathers and ladders up to the bluff-top campground at Poinsettia Lane.
Carlsbad State Beach
Carlsbad State Beach has all of the things that people daydream about when they think about the beach. Frazee State Beach, Tamarack Surf Beach, and the Warm Water Jetty are all located within Carlsbad State Beach. As a whole, these beaches are considered some of San Diego's most popular beaches. There are public restrooms and showers located at both ends of the park. With upper and lower pathways adjacent to the sea wall, guests can walk their dogs and go for a run overlooking the beach or spread out and swim, surf, scuba dive, or fish directly from the sand.
North Carlsbad Beaches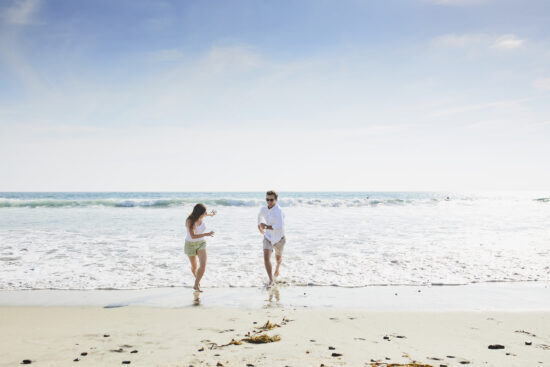 The beaches from Oak Avenue to the Oceanside border are considered North Carlsbad Beaches. For the most part, these beaches are owned primarily by the property owners along the coast. There is public access to the North Carlsbad Beaches via a public parking lot at Ocean Street. Public restrooms are located at Magee Park. These beaches are a bit more private and protected by less visitation and quieter stretches of sand and sea.
Tips and Guidelines
The Pacific Ocean is vast. During quarantine, it is important to find getaways that offer the ability to spread out, socially distance, and stay active. Carlsbad's beaches are just the spot to get some fresh air and stay safe. Large gatherings are prohibited for the time being, but the following activities are allowed:
Walking
Running
Kayaking
Surfing
Snorkeling
Body surfing
Paddle boarding
Scuba diving
Beaches are open from 6 a.m. to 8 p.m. Wind typically picks up in the afternoon but is calmer in the morning. If you'd like to book a campsite, it is wise to make a reservation well in advance.
As the heat picks up and cabin fever sets in, hit any one of Carlsbad's Beaches to renew your senses, soak up the sun, and take a dip in the water. Summertime wouldn't be the same without it!