Hollywood Comes to Life at LEGOLAND's Newest Attraction
Back in 2014, the LEGO Movie was released, and it was a huge hit. It was nominated for an Oscar in 2015 for Best Achievement in Music Written for Motion Pictures, Original Song and brought in 72 wins and 67 total nominations across the world.
Let's face it - 'Everything is Awesome' is one of those phrases that not only sticks around, but it makes you smile. With a cast of famous actors, Will Ferrell, Chris Pratt, Elizabeth Banks, Will Arnett, and Charlie Day were just a few of the voices that gave life to characters like Emmet, Lord Business, and Batman.
The 3D animated film follows lead character Emmet who thinks he is an ordinary LEGO with no known LEGO talents or extraordinary talent to speak of. Emmet is floored when he is chosen as the most 'extraordinary person' tasked with saving the LEGO universe. The movie tracks his evolution into heroism, following his friends through their quest to stop the evil tyrant, Lord Business.
Needless to say - the LEGO universe and the joy of cinema are an easy fit. Last month, LEGOLAND officially reopened to the public. And now, fans of the LEGO Movie can get up close and personal with LEGO characters as they ride their way through exciting new attractions. Not even a month after reopening, moviegoers will be thrilled to find out that LEGO Movie World is now open!
The LEGO Movie is packed full of exciting stories, characters, and colorful landscapes. LEGOLAND has brought all of these elements to life.
LEGO Movie World has three new exciting rides. The largest of the three is Emmet's Flying Adventure. On this ride, guests get to join Master Builders on a twisting, turning, and plummeting adventure through the LEGO Movie universe. Guests are buckled into a giant Triple Decker Couch that is surrounded by a full-dome virtual screen. The immersive surround sound and video make it feel like you are actually flying through the air and traversing over a city of LEGO bricks.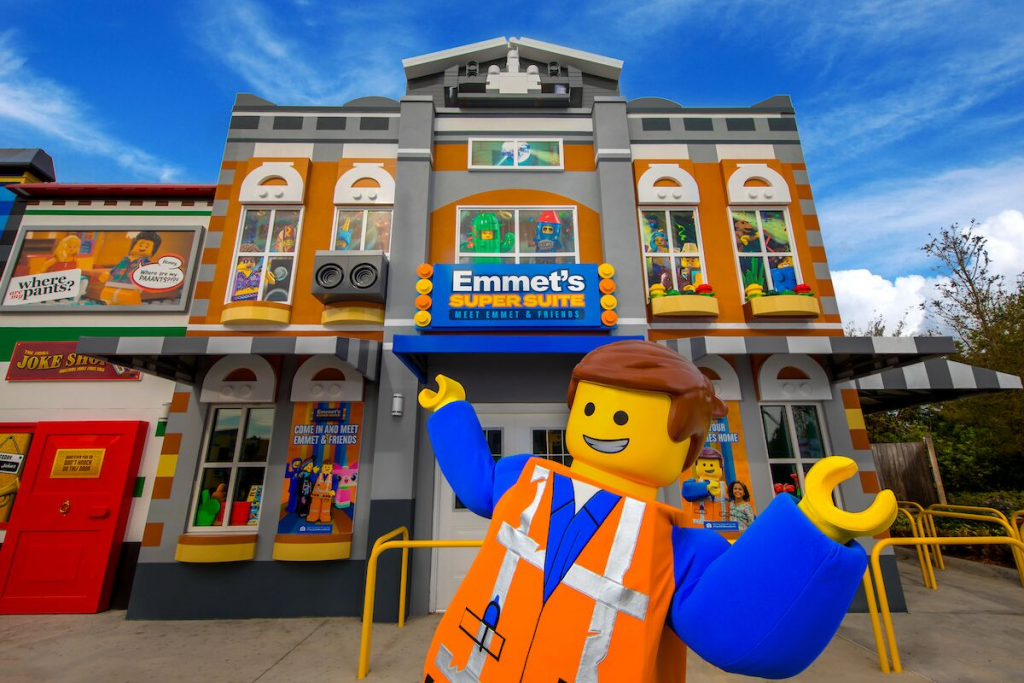 The second new ride is Unkitty's Disco Drop. If you remember anything about Unkitty, you'll remember that she is a girl of many emotions. On this ride, guests will get to experience all of UnKitty's ups and downs. The tower ride catapults riders up above Cloud Cuckoo Land and spins, bounces, and falls through a colorful array of UnKitty's moods.
Lastly, there is Queen Watevra's Carousel. The carousel is a slow circular ride that is perfect for younger kids. You can spin around with the Queen by choosing any one of her 60 horses to ride on during your go-around.
In addition to the new rides, there are also three new exciting attractions. Between flying through Emmetts Adventure and falling through the air with UnKitty, you can visit Emmet's Super Suite, Benny's Playship, or Build Watevra You Wa'Na Build. At Emmet's Super Suite, you can swing by Emmet's apartment and see where your favorite builder lives. In his apartment, you can meet his friends and some of your other favorite characters. In Benny's Playship, you can burn off some steam in the space-themed playground. Or, if you're looking to get your hands dirty, stop by Build Watevra You Wa'Na Build and let your creativity soar.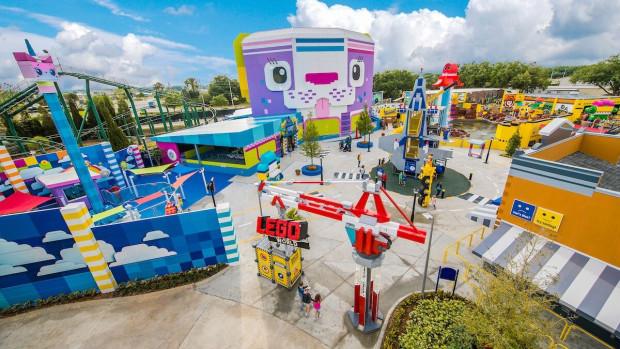 For food, you can snack on a menu of LEGO Movie World themed treats. From homemade ramen to Cloud Cuckoo Crepes and Benny's Rocket Fuel, no one will leave hungry.
With LEGOLAND open to the public and LEGO Movie World now open, everything is, in fact, awesome. Book your tickets today to check out the newest addition to Carlsbad's favorite theme park.