Shop Local this Season in Carlsbad Village
As the holiday season approaches, the time has come to start thinking about our shopping lists.
No matter how much planning we try to do, there always seems to be a mad rush right at the last minute.
Despite the best intentions, holiday parties, meals, and decorating can snowball quickly and leave us little to no time to tackle a growing list of gifts. Oftentimes, the rush of the holiday season can result in hurried trips to a department store. Or, we can stay up late trying to find hot items online. Unfortunately, this can result in gifts that lack personality, and that's what giving gifts is all about. This holiday season, consider getting ahead of the rush and shop local.
When it comes to holiday gift-giving - there are many reasons you should choose to shop local. From simple benefits like convenience to more impactful reasons like the environment and local economy - shopping locally really does help the world around you. Supporting independent businesses and neighborhood charities can directly impact community members who have been negatively affected by the pandemic. Many small shops have struggled to stay afloat during the past year. Holiday shopping is the perfect way to support these businesses and spoil your loved ones. Shopping locally allows us to invest in the community, helps create demand for local jobs, gives us quality products through sustainable goods, and produces great deals for budgets of all kinds.
If you want to get ahead of the holiday rush and are looking for thoughtful, wonderful, and unique gifts this season - here are some great options in Carlsbad Village that check all the boxes:
Village Rock Shop
The world of crystals has been gaining traction in popular culture. This magical world of gemstones and their healing powers is rooted in local artisans and artists. And, the Village Rock Shop in Carlsbad Village has the highest quality raw, faceted, polished gemstones and customizable gift sets around.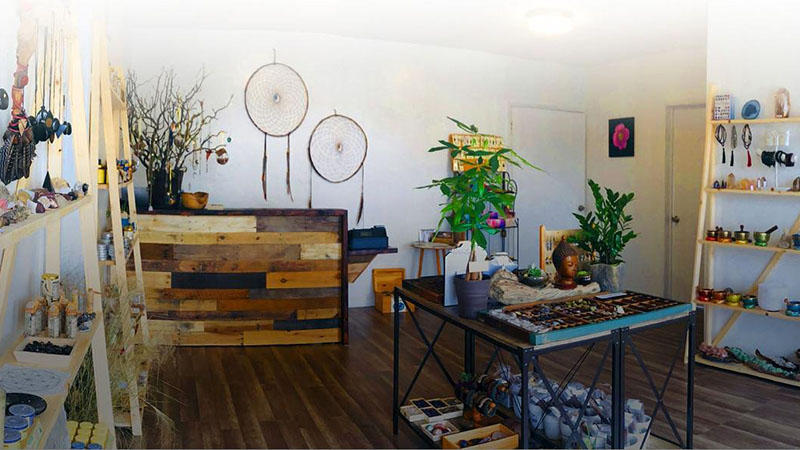 The Village Rock Shop aims to offer the finest selection of crystals and gemstones from around the world at affordable prices. Their stones include healing crystals that are sourced from small mines. Each crystal has its own healing and balancing powers, and they have a range of options - everything from crystal jewelry to spheres, towers, geodes, and wands. There are also dreamcatchers with gemstones, homemade natural candles, aromatherapy sprays and smudging kits.
Stop in to find a custom gem that will surprise and delight anyone on your holiday shopping list.
Rebel Villa
One of the newer locally owned boutiques in Carlsbad Village is Rebel Villa. Owners Sonnet and Mindy set out to provide quality bohemian-inspired decor at affordable prices. Their storefront is a beautiful display of macrame, plants, and upscale accessories. The boutique is fueled by a mission to support female artisans and their products are bold and welcoming.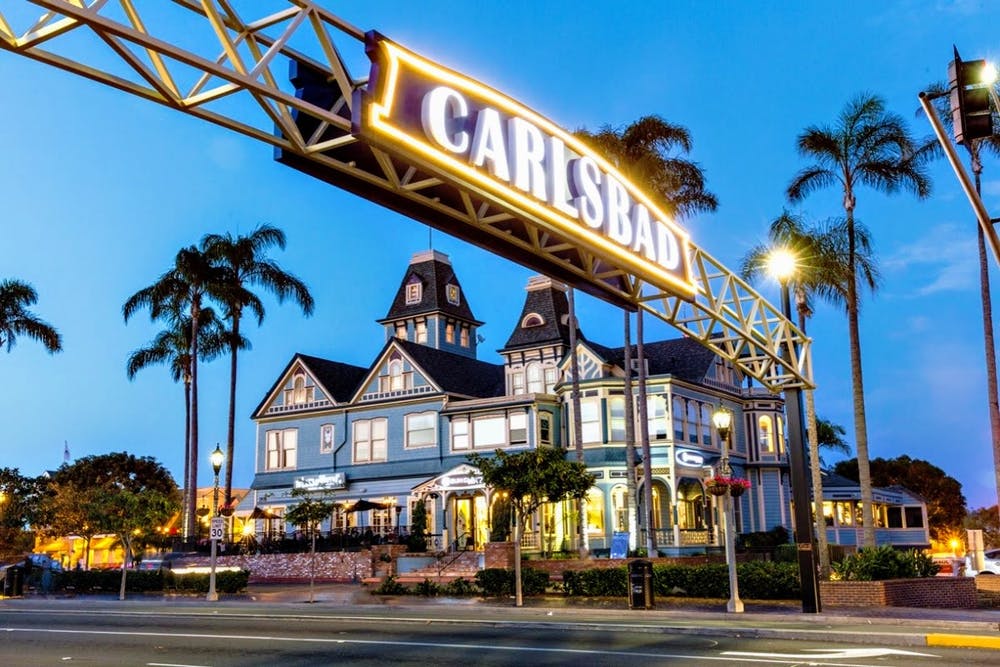 From plant hangers, metal wall hangings, and art prints to home textiles and indoor plants, this boutique is a one-stop-shop for wellness and living. Drop in for a gift for your favorite bohemian friend or tackle a full room renovation with home accents, wall decor, candles, and textiles.
75 Degrees and Fuzzy
If you're traveling to Southern California, there's no doubt that you've likely heard the term '75 and sunny'. Our Mediterranean climate keeps us hovering right around 75 degrees, and the sun is out all year. 75 Degrees and Fuzzy is a fun play on this term and an even better clothing boutique.
The co-founder of 75 Degrees and Fuzzy grew up loving the art of dress-up and performance. Layna Hathaway has always adored fashion and has been able to apply this adoration to her store's inventory. Each piece in the boutique is handpicked by Layna and her mom and is sourced from the Los Angeles Fashion District as well as vendors from the show MAGIC. The clothes at 75 Degrees and Fuzzy are for real women who are 'never too old to dress up'. Pieces are modern, fashionable, and classic. Whether you need the basics or a new bodysuit and mini dress, 75 Degrees and Fuzzy has you covered.
Coolest Shoes in California
Sometimes, a name says it all. And let's be honest - if you're looking for new shoes, why wouldn't you want to get a pair that is the 'coolest' in California?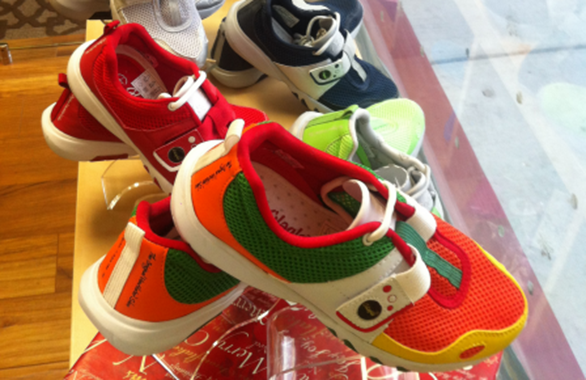 At Coolest Shoes in California, owners have stocked up on everything from lightweight running shoes to pillow-soft sandals. You can grab a new set of flip-flops to take to the beach or try on a new pair of running shoes for your next workout. They have comfort and style all wrapped up in a trendy local boutique. Open Monday - Saturday from 10 a.m. - 7 p.m. and Sunday from 10 a.m. - 6 p.m., Coolest Shoes in California has footwear with a variety of comfort features. Ventilation, orthotic arch support, and memory foam foot bedding are just a few of the things that you can find when you visit.
It's never too early to get a jump start on holiday shopping. This year, try out any of the unique shops in Carlsbad Village to support local businesses and shower your loved ones with gifts fit for any season.