Where to Harvest Memories this Thanksgiving in Carlsbad
When the pilgrims of Plymouth celebrated Thanksgiving for the first time, their dinner menu may not have been the feast of turkey, stuffing, and pie that we all look forward to today.
Wild turkeys did exist in the Plymouth area, but the harvest feast that Edward Winslow wrote about doesn't explicitly mention the big bird that serves as the centerpiece of our modern-day dinners.
Since the bird is unique to North America, it gained traction as the main course for celebratory meals leading up to and following Lincoln's declaration of Thanksgiving as a national holiday. Regardless of how the turkey came about and whether or not cranberry sauce was around during the colonists' times (it wasn't), today's Thanksgiving feasts are marked by classic plates of turkey, yams, green beans, stuffing, cranberry sauce, mac and cheese, mashed potatoes, pie, and fresh-baked bread. If you're someone who loves giving thanks, tryptophan, family, and a full belly, see our list of five of the best places in Carlsbad to enjoy Thanksgiving Dinner this year.
For a comprehensive list of dining and lodging specials, visit our holiday page here.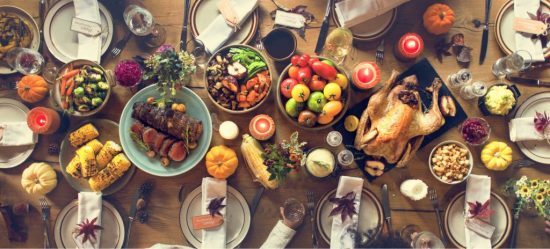 The Argyle Steakhouse at Park Hyatt Aviara
For some, Thanksgiving feasts can last from sunrise to sunset. At The Argyle Steakhouse, families can relax and start the day off with a huge breakfast buffet from 10 a.m. to 2:00 p.m. Or, families can sleep in and opt for a special three-course prix fixe menu from 5:00 p.m. - 9:30 p.m. The breakfast buffet will feature everything from an iced seafood display to a complete cold buffet with roasted sweet potato, cured beef tenderloin carpaccio, smoked buffalo crostini, and much, much more. There will be an omelet station, carving station, and pastries buffet to top it off. For the dinner crowd, butternut bisque and smoked duck breast will start the first course. Slow roasted turkey and confit dark meat will be accompanied with roasted vegetables, Yukon gold potatoes, and candied yam pecan crumble. Book your reservation here.
Green Dragon Tavern & Museum
Dressing up for Thanksgiving dinner can be stuffy. At Green Dragon Tavern, dressing down is acceptable and encouraged. This year, the Tavern's Thanksgiving dinner includes a New England inspired New American Cuisine. This year's 5th annual Thanksgiving Day Buffet will start at 11 a.m. and end at 5 p.m. The menu includes an artisan cheese board, harbor coastal cedar smoked salmon, roasted corn chowder, honeyed cornbread, brined turkey breast, rum glazed ham, pumpkin, pecan, and apple pies. Check out the full menu here and be sure to make a reservation before spots fill up.
Omni La Costa Resort & Spa
A full day of festivities awaits at Omni La Costa Resort & Spa, starting with a Champagne Brunch in the Costa Del Sol Ballroom. The feast will include a selection of Holiday Turkey, Caribbean Jerk Chicken, and Roasted New York Strip as well as champagne to toast the occasion. A family-friendly event, brunch will also feature a Children's Buffet and a kid's playground plus live music for all to enjoy. The Champagne Brunch starts at 11 a.m. and
will end at 3:30 p.m. Those seeking dinner can visit Bob's Steak & Chop House to enjoy prime steaks, seafood and fine wines in an elegant, lively atmosphere.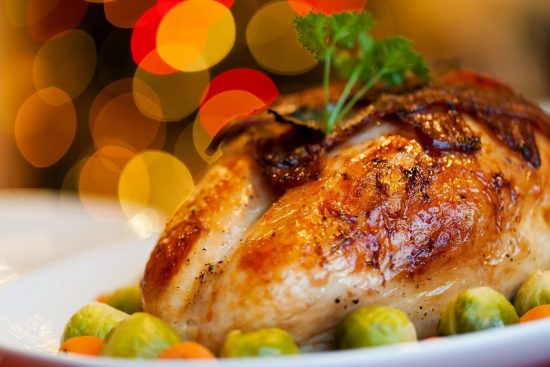 Chandler's at Cape Rey
The ocean view at Chandler's is the perfect backdrop for a meal that will fill you up and make you thankful for Carlsbad's beauty. This year's Thanksgiving Feast will take place from 1:00 p.m. to 7:00 p.m. Family and friends can gather for a four-course dinner that will take all of the guesswork out of having to prepare the food at home. The menu offers all of the comforts of a home-cooked meal. The first course includes a choice of either organic local greens or harvest pumpkin bisque. For the main course, guests can choose from pepper-crusted beef tenderloin, crab crusted local catch, herb-crusted Diestel farm turkey, or sage brown butter pappardelle. Reservations are recommended, so be sure to make one today.
Vigilucci's
Vigilucci's is a mainstay in Carlsbad. With three amazing locations to choose from, celebrating Thanksgiving Dinner at any one of their locations is sure to be one of the best dining experiences around. Each restaurant is unique and highlights a different specialty cuisine. At Trattoria, guests can sit in the outdoor patio next to the courtyard or in one of the adjoining dining rooms. Thanksgiving dinner will be available from 12:00 p.m. to 8:00 p.m. At Cucina Italiana in the heart of Carlsbad Village, diners can enjoy a traditional Thanksgiving Dinner. Vigilucci's Steak and Seafood has jaw-dropping views of the Pacific Ocean and will be offering a prix fixe three-course meal. Choose from any of the three to guarantee that you will have a meal to be truly grateful for.
Twenty/20 Bar and Grill at The Westin
Twenty/20 is notorious for giving guests an exquisite dining experience from start to finish. Their farm-to-table fare is the perfect accompaniment to a satisfying Thanksgiving feast. This year, they are pulling out all the stops with a full spread of Thanksgiving favorites. The Thanksgiving dinner will include free-range turkey, giblet gravy, vanilla bourbon bread pudding, and more. The buffet will take place from 1:00 p.m. to 8:00 p.m. and reservations are required.
There is plenty to be thankful for as 2019 draws to a close. Use Thanksgiving dinner as an opportunity to share good food and good times with family and friends at any one of these amazing locations.