The Most Wonderful Time of the Year in Carlsbad This December
From the bluster of food and entertainment to the slow trudge back to work, the Thanksgiving break has offered a relaxing segue into December festivities.
While a heat wave tried to trick our Southern California senses, North County is already embracing the holidays for every ounce of joyful cheer it can muster.
Whether you've been taking care of traditions like family greeting cards or impressing neighbors with twinkling lights, December can be a whirlwind of bustle and activity. If creating your gift list has exhausted your energy and planning your schedule for the holidays seems impossible, here is a quick reference guide of Carlsbad events that will keep your spirit going this season.
Carlsbad Village Night of Lights
The Carlsbad Village is a focal point for this year's festivities. Starting on December 2, kickoff the holiday season by enjoying caroling and jazz performed by Carlsbad High School students. The Village will come alive with cheer, offering special deals from merchants, festive decor, and discounts at restaurants throughout. Be sure to get a head start on shopping while kicking off the holidays and keep an eye on continued events at the Village throughout the month. Photo ops with Santa and the Pet Parade on December 10th are just a few of the family friendly festivities available.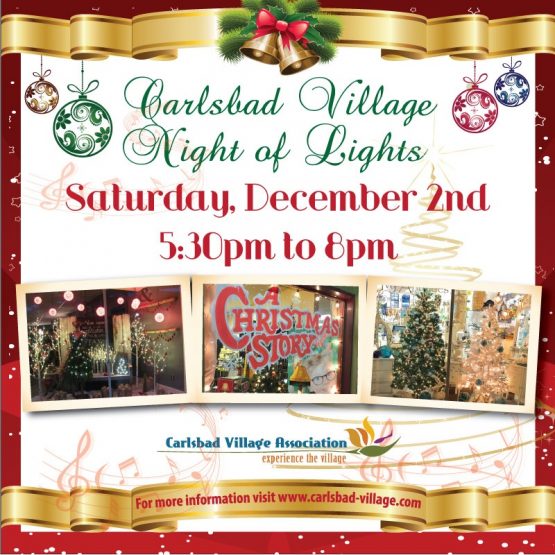 December 2nd: 5:00 p.m. - 8:00 p.m.
430 Carlsbad Village Drive
Carlsbad, CA 92008
Carlsbad Community Bike Ride to Holiday Tree Lighting
Following the Night of Lights, take part in the Carlsbad Village's famous Tree Lighting ceremony by joining in a community bike ride to the event. With two rides to choose from, families can bring little ones to participate in a 1.5 mile ride that connects with an antique fire engine and Santa parade or a longer 6 mile route that runs throughout the Village and allows riders the option to arrive at the tree lighting at their leisure.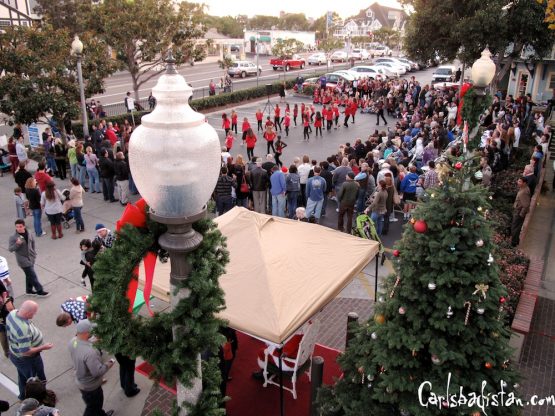 December 3rd: 1:45 p.m. - 4:30 p.m.
Magee Park
258 Beech Ave, Carlsbad, CA 92008
Omni La Costa Resort & Spa Annual Tree Lighting
Another exciting way to begin the holiday season is at the Carlsbad Omni La Costa Resort & Spa. A festive tree lighting complete with a visit from the resort's very own skydiving Santa (weather permitting) will ring in the holidays like no other. Sip hot chocolate and cider, listen to carolers and enjoy crafts and fun for the whole family. The holiday market will feature brands like Cassiano Designs, Citizens of Humanity and Colorescience.
Saturday, December 2, 2017 from 3:00 p.m. - 7:00 p.m.
2100 Costa Del Mar Rd
Carlsbad CA 92009
Holiday Mindful Market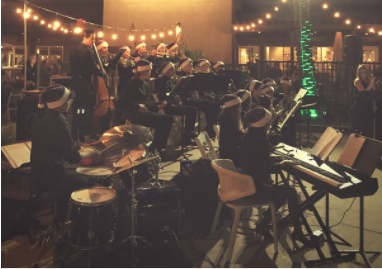 For added holiday shopping opportunities this weekend, drop by the Holiday Bazaar hosted by EVRBOTTLE. Shopping from local vendors provides support to the Carlsbad community and energizes the economy by adding incentive for local artisans to continue their crafts. It is a free event where you can enjoy live music, food trucks, and a variety of hand crafted gifts to purchase for loved ones this holiday season. From jewelry to apparel, you'll be sure to check a few items off of your shopping list while supporting your community.
December 2nd: 2 p.m. - 9 p.m.
2860 State Street
Carlsbad, CA 92008
Holidays at the Cape
Cape Rey Carlsbad is an idyllic retreat any time of the year. During the holidays, the Cape combines beach vibes with the cozy traditions we all know and love. Little ones can take part in the countdown to Christmas, complete with events that include cookie decorating, holiday films, hot cocoa, and custom ornament creation. Jump into the fun with Mrs. Claus to get the full experience. You'll be able to park your board on the sand and pretend you're in a winter wonderland complete with Santa's elves, the Polar Express, and the infamous Grinch who stole Christmas.
December 18 - Movie Night (Elf) & Cookie Decorating
December 19 - Ornament Making & Hot Cocoa
December 20 - Movie Night (Polar Express) & Cookie Decorating
December 21 - Ornament Making & Hot Cocoa
December 22 - Arts & Crafts Project with Mrs. Claus
December 23 - Christmas Eve Eve Movie (How the Grinch Stole Christmas)
1 Ponto Road
Carlsbad, CA 92011
Lights Around Carlsbad
Flashing icicles, inflatable reindeer, and snowflakes that transform the darkness of night into an exciting prelude to Santa's arrival are a key part of the holiday tradition. To keep the tradition alive, here is a list of Carlsbad's best homes that go all out when it comes to holiday lighting and decor. Pack the family into the car and drive by any of these locations to be awed by the twinkling lights and joy of the season.
7607 Romeria Street This home is known as "The Carlsbad Christmas House". When you visit, you'll want to get out of the car and explore the winter wonderland created by the lights, animated penguins, and characters like Snoopy and Santa. In addition to the decor, fake snow machines let Southern California natives the opportunity to put on their boots and catch a snowflake (or two) on their tongues.
Dec. 4-31, 5-9 pm.
6646 Elegant Tern Place Add magic to the season by stopping by Elegant Tern Place and letting your little ones drop off their wish list to Santa via Santa's mailbox. Personalized letters will be returned to every child who delivers a note. This location also hosts a community event on Dec. 17th that features treats, crafts, and bubbles, to boot.
Dec. 3-25, 5-10 pm.
2329 Snead Drive If you're looking for the ultimate display of lights in Carlsbad, Snead Drive will not disappoint. Walk into the garage to see a holiday village complete with everything from elves to a nativity. If you're lucky, Santa will arrive from the sky in a hot air balloon.
Dec. 5-31, 5:30-9 pm.
There are plenty of festivities and entertainment to usher in a sense of merriment in Carlsbad this season. The holidays only come once a year, so keep this list handy to make sure that you are experiencing everything there is to offer between now and the New Year.