Find a Good Time at the Faire
When traveling to a new city, it's important to find the heart of town so that you can really experience what makes it tick.
Communities express themselves in the businesses they run and the people they support. In Carlsbad, there are many different colorful things that make our city what it is.
From over eight miles of coastline to lush valleys and vibrant, relaxing resorts - our city is home to many different natural and curated adventures. Nestled just north of San Diego, Carlsbad is a unique breath of fresh air. When you visit, you can feel the vibrance of our coastal community. Part of that vibrance emanates from the pulse of downtown Carlsbad Village. Local restaurants, bars, and wineries are set right in the center of the fun. When you're planning a visit, you can fill your mind, body, and stomach at our museums, historical landmarks, theme parks, award-winning golf courses, Flower Fields, ice cream shops, and more. There are activities around every corner that make it the perfect place to kick back and relax. And, amidst the laid-back vibes our town is also home to a raucous good time.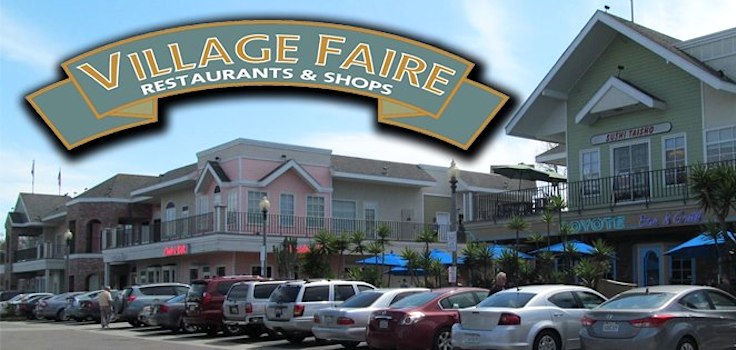 When you've soaked in the sun and decompressed, a good time is in order. That good time can be found at the Village Faire Shopping Center. Village Faire is a cluster of restaurants, bars, and shops just steps from the beach. If you're planning a trip or already here - scope out the Faire for your next meal, an afternoon snack, happy hour, or place to unwind.
The Village Faire is located just down the street from Historic Carlsbad Village. It has a unique New England-style architecture. The buildings feature a two-story view with a balcony that surrounds a fountain courtyard. There is a laid-back Caribbean vibe with over 36 shops, restaurants, and services just a block from the beach. The boutique-style shops offer everything from fun socks at Sock District to beach fashion at Mermaids Boutique. You can grab a gift for friends at Linda's Gift or adjust your chakra with crystals, amethysts, and jade rollers from Earth's Elements.
For hands-on experiences, The Village Faire also has the Lynn Forbes School of Sculpture and the North County Coastal Art Gallery. The School of Sculpture is a world leader in figurative sculpture and excels in realistic portrait work. You can wander in for a quick class or browse the sculptures for sale. The Coastal Art Gallery represents member artists of the Carlsbad-Oceanside Art League and is home to seasonal showcases and competitive shows.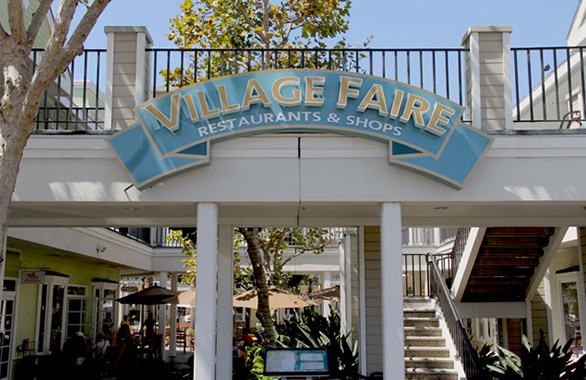 The restaurants at the Village Faire are where the fun starts. There is everything from down-home cooking at the Clara-Kitchen & Bar to ramen, Italian, poke, and more. Gelato Love is a great place to stop for dessert, and once you're ready to grab a brew you can swing by American Heroes & Brew.
But, the real excitement goes down at Coyote Bar & Grill. If you happen to be walking around the Village, or have just gotten off the beach and are headed to your car, you've probably heard the live music coming from Coyote Bar & Grill. The restaurant is rich with entertainment, and the outdoor patio welcomes a good time - no matter what time of day it is. They have California Cuisine and over 100 tequilas to choose from. They feature live entertainment nightly and karaoke almost weekly. It has been in operation since 1989 and regardless of whether you're visiting during the week or letting loose on the weekend, the restaurant is the heartbeat of music, fun, and, and dancing on Carlsbad Village Drive.
There is never a bad time for a trip to downtown Carlsbad. Next time you're in town, definitely don't miss a chance to enjoy the fun at the Village Faire.