Fun for The Whole Family - The Carlsbad Village Street Faire
One of the most popular areas within the city is the Carlsbad Village. Since 1975, Carlsbad Village has been home to one of the largest street fairs in the United States - the Carlsbad Village Street Faire.
The Carlsbad Chamber of Commerce, in partnership with Kennedy & Associates have hosted the event for over 45 years, and it has grown year over year.

As a Marine veteran, Keith Kennedy was a longtime resident of Carlsbad who was deeply invested in his community. He started a sidewalk sale to support local businesses and in 15 short years, it became one of the largest one-day street fairs in the nation. Keith went on to pursue a career in street faire management and grew Kennedy & Associates (now Kennedy Faires) with the support of his son-in-law, who eventually inherited the business and passed it on to family friend, Rick Bauer. In 1982, the Carlsbad Chamber of Commerce took over management of the Carlsbad Street Faire, carrying out Keith's mission to help downtown businesses thrive.
This free event has grown to be so popular that it not only continually attracts people from all over Southern California, but from other states as well. Some visitors even plan their vacations around the bi-annual event that happens in May and November in Carlsbad Village. The twice-a-year tradition regularly attracts tens of thousands of people and not only supports local businesses, but local performers as well.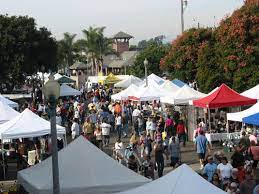 The 2022 Carlsbad Village Street Faire will be back in full swing for the second time this year on Sunday, November 6. It will take place in the Village, on Grand Ave and Carlsbad Blvd, from 8 a.m. to 4 p.m.
The Carlsbad Village Street Faire will feature over 900 unique vendors - everything from arts and crafts to clothing and antiques will be on display from local vendors. There will be an international food center with hand curated dishes from Central America, Asia and everywhere in between. There will also be plenty of activities for kids, including rides and a special pancake breakfast for the whole family.
The event welcomes many tourists and locals, so parking will be extremely limited. There will be complimentary shuttles to and from the Village every 15 minutes. Shuttle pick-ups will be located at the northwest corner of Sears at The Shoppes at Carlsbad (Highway 78 and Jefferson) and the Poinsettia Coaster Station (Poinsettia exit off of I-5).
The North County Transit District is even offering 2-for-1 fares on the Coaster and plans to add three more round-trip routes to its Sunday service specifically for the event.
The Carlsbad Village Street Faire brings the rich history of the city and its residents all into one place. Don't miss this year's second chance to stroll
through Carlsbad Village, taste new things, sip a beverage of your choice, buy vintage souvenirs and play games with the kids. Book accommodations now for a fun Sunday full of shopping, food and festivities. For more information on Carlsbad resorts and hotels, visit https://visitcarlsbad.com/.