Dive in and Soak up the Fun with Flicks at the Fountain 2022
Summer movies feel like a mini vacation. When school is out, it's okay to stay up late with a bowl of popcorn in front of the television.
There is no better time to invite friends over, turn off the lights, grab some snacks and lose yourself in the big screen.
With hot weather and even hotter movie releases, summer is the perfect time to cool off and watch a film. When it comes to having fun, there is no better way to spend a cool summer night than enjoying a movie - and if you can do it outdoors, even better. Nothing quite says summer break like spreading out on a blanket with the sound of waves crashing nearby. Whether sprawled out on the lawn or lounging in the comfort of your own car, watching a summer flick under the stars can create memories that will last into the fall and winter.
The summer blockbuster season brings theatrical releases that let us turn off our minds and get lost in a story. Whether it's a new release, or an old classic - movies give us a way to bring together friends and family, tap into our creative sides, and imagine a world outside our own.
For films seeped in the glow of sunsets and long summer nights, Flicks at the Fountain in Carlsbad Village is a great way to enjoy movie watching while school is still out.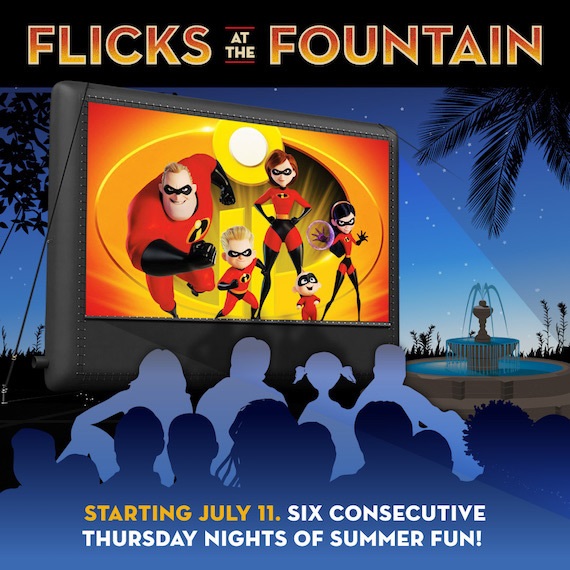 Carlsbad Village is the hub of coastal Carlsbad. Flicks at the Fountain takes place in the heart of the Village, running five consecutive Thursday nights from now until August 4th. The films are hosted by Carlsbad VIllage Association and projected onto the big screen in the parking lot by the Village Fountain at the corner of State Street and Grand Avenue.
Seating for the movies starts at 6 p.m. so that guests have plenty of time to get comfortable before the show begins. Groups are encouraged to bring low-backed chairs or blankets and to arrive early to ensure a good spot. Movies start around dusk, and depending on sunset, they usually get going around 8 p.m. You can pack your own food, snacks, and drinks or order take-out from any of the nearby restaurants surrounding the Village. If you plan ahead, some vendors will even deliver food directly to the parking lot.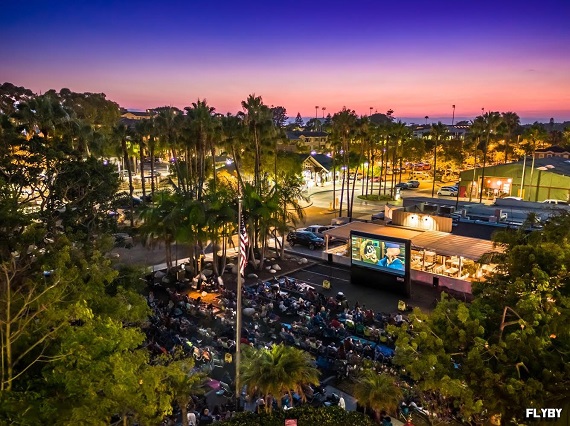 All films are rated G or PG (unless otherwise noted) and the set list is chosen by popular vote via the Carlsbad Village's website. This year, the five movies include:
Encanto - July 7th
Goonies - July 14th
Sing 2 - July 21st
Top Gun - July 28th
The Greatest Showman - August 4th
Friendly leashed dogs are welcome, and there is no cost to attend. If you're looking for a way to dive in and soak up fun this summer, check out Flicks at the Fountain and embrace the freedom of the season through the joy of film.