Gobble 'Til You Wobble This Thanksgiving in Carlsbad
In Carlsbad, we have a lot of things to be thankful for. From year-round sunshine to the gorgeous coast and its scenic views, our coastal city is a dream.
We have award winning resorts and hotels, amazing culinary cuisine, popular local breweries, family friendly attractions and championship caliber golf courses.
The number of things to be grateful for is too long to count. Luckily, Thanksgiving is the perfect time to show gratitude and appreciation for all of the wonderful things that make our city home.
Need ideas about where to enjoy a Thanksgiving feast in Carlsbad this year on Thursday, November 24? Want to get a sumptuous meal catered for your family and friends? Check out these local restaurants for the best places to get out, give thanks and chow down in Carlsbad this year:
RESTAURANTS
PARK HYATT AVIARA – EMBER & RYE THANKSGIVING
Ember & Rye is the Park Hyatt's very own Richard Blais concept steak and seafood restaurant that specializes in dishes made from local ingredients. For Thanksgiving this year, the restaurant is offering two meal options – a brunch buffet from 10:30 a.m. to 2:00 p.m. and a traditional Thanksgiving dinner from 4:30 to 8:30 p.m.
The brunch buffet menu includes a seafood display, maki sushi and sashimi, a chef's station, cold and hot buffets, pastries and a carving station. Tickets for brunch are $155 for adults and $65 for kids ages 3-12.
Traditional Thanksgiving dinner includes family style snacks with shrimp cocktail and vegetable crudites, entrees of roasted turkey and prime rib or blackened swordfish, family style sides and classic desserts such as pumpkin cheesecake and pecan pie.
Ember & Rye is at 7447 Batiquitos Drive in Carlsbad. For more information or reservations, call (760) 603-6908.
CHANDLER'S OCEANFRONT DINING AT CAPE REY CARLSBAD BEACH THANKSGIVING BUFFET
Oceanfront dining at Chandler's brings the coast right to your table. For Thanksgiving, Chandler's is hosting a full buffet for a family dining experience. The buffet is available from 1:30 p.m. to 6:30 p.m. and reservations are $75 for adults and $35 for children under the age of 12.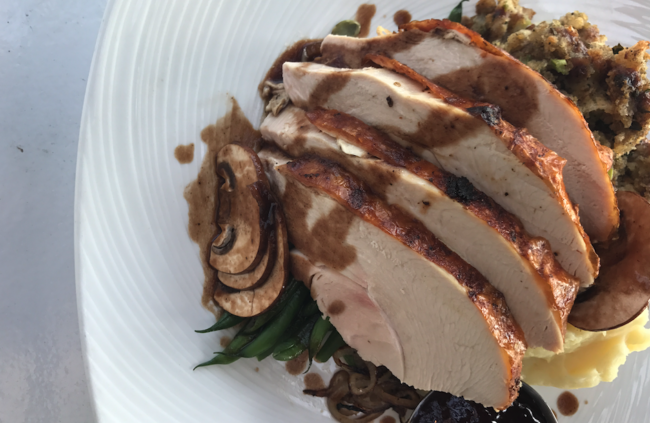 The buffet will feature a chilled seafood station with large Mexican prawns, half shell oysters, and a Gravlax display. There will also be a salad station chock full of healthy greens and a carving station with turkey, prime rib and whole roasted salmon filets. Sides will include everything from mashed potatoes and rice pilaf to roasted butternut squash, steamed broccolini, and spaghetti squash. Dessert options feature pumpkin pie, apple pie, hazelnut torte, berry tart and more.
Chandler's Oceanfront Dining is located in Cape Rey Carlsbad Beach, a Hilton Resort and Spa, at 1 Ponto Road in Carlsbad. For more information or reservations, call (760) 683-5500.
PARK HYATT AVIARA – PONTO LAGO THANKSGIVING
The Park Hyatt Aviara's Ponto Lago is offering a special family feast from 4:00 to 8:00 p.m. for Thanksgiving. Chef Christopher Carriker will be serving up a four-course family feast created with the immersive experience of refined Baja-inspired cuisine and specialty cocktails. The show kitchen will allow guests to get an inside look behind the scenes as Chef Carriker brings the holidays to life.
Ponto Lago at the Park Hyatt Aviara is at 7100 Aviara Resort Drive in Carlsbad. For more information or reservations, call (760) 603-3773.
THE CANYONS RESTAURANT AT THE CROSSINGS THANKSGIVING BUFFET
On Thanksgiving Day, The Canyons Restaurant at The Crossings is taking the holiday brunch buffet to the next level with a menu offering breakfast favorites and traditional Thanksgiving dinner entrees. Guests can enjoy a charcuterie platter, baked brie, a carving station and cooked to order omelets or fill up on oven roasted turkey, green bean casserole, yukon gold mashed potatoes and more. A children's buffet is also available. The Thanksgiving Brunch Buffet will be served from 11:00 a.m. to 4 p.m. and also features live music.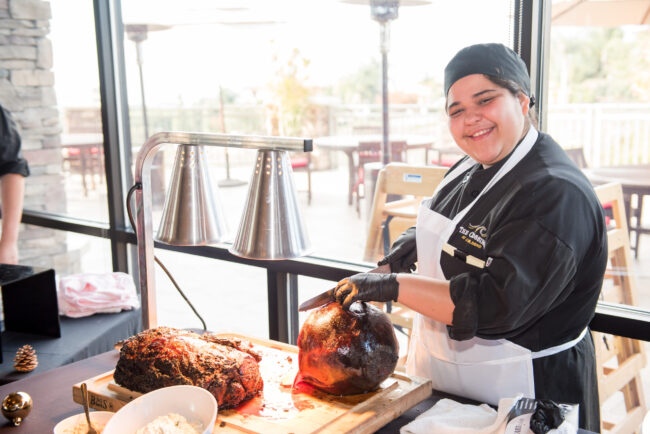 Guest pricing is $85 for adults and $75 for seniors which includes bottomless mimosas. Kids are $35 and children six and under eat free.
The Canyons Restaurant at The Crossings is at 5800 Crossings Drive in Carlsbad. For more information or reservations, call (760) 444-1800.
WESTIN CARLSBAD RESORT & SPA – THANKSGIVING AT 20|TWENTY
Thanksgiving at 20|Twenty will be served from 1:00 p.m. to 8:00 p.m. featuring a menu of seasonal items with locally sourced ingredients. Dinner is $89 per person.
Appetizers include a savory spinach & frisee salad or butternut squash soup followed by an entree of your choice including slow roasted free range turkey, pan seared Verlasso salmon, Cabernet braised short rib or fall harvest root vegetable quinoa coconut curry.. Dessert is either homemade pumpkin pie or chocolate pecan pie.
20|Twenty is located at the Westin Carlsbad Resort & Spa, 5480 Grand Pacific Drive in Carlsbad. For more information or reservations, call (760) 827-2500.
OMNI LA COSTA RESORT & SPA THANKSGIVING MEAL BOXES AND BUFFET
The Omni La Costa Resort & Spa features time-honored and new holiday-themed traditions this winter season.
Guests can partake in the Chef's Champagne Thanksgiving Buffet at the resort from 10:00 a.m – 2:00 p.m. in Costa de la Luna. The buffet includes a fresh seafood bar, carving station, desserts and a children's buffet. Cost is $140 per adult, $65 per child 4-10. There will also be a special appearance by La Costa's newest holiday character, the Poinsettia Princess.
The Omni La Costa Resort & Spa is at 2100 Costa Del Mar Road in Carlsbad. For more information or reservations, contact (760) 438-9111.
VIGILUCCI'S CUCINA THANKSGIVING MENU
If you want to enjoy both Italian cuisine and traditional Thanksgiving dishes, then Vigilucci's is the place to be. Their Thanksgiving menu has everything from antipasto and insalata to pasta and il pesce. For traditional dishes, guests can enjoy a turkey dinner, salmone al finocchio or risotto gamberi e zucchini. There's even a kids menu to make sure everyone leaves full.
The Thanksgiving dinner menu will be served from 12:00 p.m. to 8:00 p.m. on Thursday, November 24.
Vigilucci's Cucina is at 2943 State Street in Carlsbad. For more information or reservations, call (760) 434-2500.
GREEN DRAGON TAVERN AND MUSEUM – THANKSGIVING BUFFET
The Green Dragon Tavern and Museum brings new meaning to the word casual cuisine. On Thanksgiving the restaurant will host a fun menu of hearty holiday favorites from 11:00 a.m. to 3:30 p.m. There will be everything from poached prawns to a New England Salad. The carving station will feature dry rub turkey and prime rib and sides range from pumpkin ravioli to macaroni and cheese. Dessert includes pumpkin, warm apple, pecan pies and more.
The Green Dragon Tavern & Museum is at 6115 Paseo Del Norte in Carlsbad. For more information or reservations, call (760) 918-2421.
CATERING
URBAN PLATES CATERING
If spending time with your family, not your kitchen is more your vibe, then catering your Thanksgiving feast with Urban Plates is the thing to do. You can preorder your dinner before the holiday and heat it in the comfort of your own home.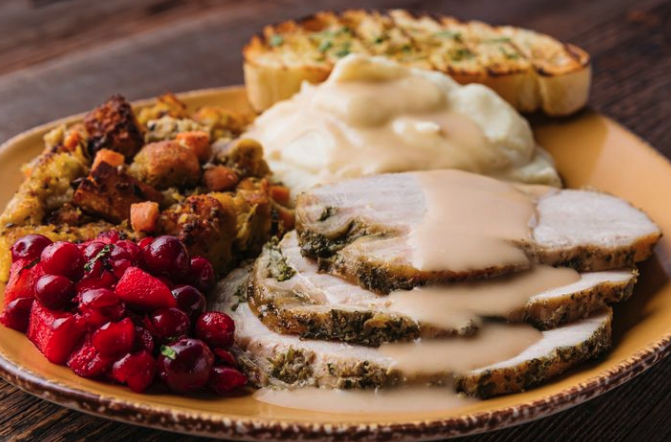 This year's Turkey Family Feast is $169.95 and serves 6-8 people. It includes all the fixings – herb-roasted cage-free turkey breast, mushroom stuffing, gravy, artisan bread and a choice of two sides. The Feast comes with heating instructions so that you can get a made from scratch meal with little to no effort.
For more information about pre-orders and pick-up dates and times, visit https://urbanplates.com/thanksgiving/.