Put Road, Sand & Sea into Your Workout at the Carlsbad Triathlon
Being active in Carlsbad is easy. Taking a walk outside turns even the most lethargic Mondays into an excuse to soak up the sun and enjoy the breeze.
Jogging along Carlsbad State Beach is less like a workout and more like a vacation.
Perched above the many miles of sandy beach with views of the Pacific Ocean as far as the eye can see, the paved walkway runs along Carlsbad's beach town and is a sightseer's dream and a runner's haven. For bikers, the Carlsbad Coastal Rail Trail runs right along the tracks and is set apart from road traffic, making it a safe and leisure ride. Swimmers have the expanse of the ocean to kick their legs and generate a healthy sweat while exercising. Carlsbad's ecosystem is the perfect setting for all different types of outdoor exercise. For athletes who do a little bit of everything, the 38th Annual Carlsbad Triathlon is on July 14-15 at Tamarack Beach this year. It is an annual tradition that encourages everyone to get outside and get active.
During the triathlon, there are five different race combinations for competitors to choose from. Sprinting, swimming, biking, and aquabiking are all options that can be committed to in an array of different combinations. The triathlon is completed in sprints. The first set of sprints will involve an open water swim, marked clearly with buoys and guide markers. The swim course starts at Cherry Avenue and goes in a counterclockwise motion, guiding athletes from the starting line to the transition/exit.
The biking sprints start with an uphill effort. The trek from the beach extends southward with loops and U-turns added in for complexity. Low gears and stamina are paramount in getting bikers through this sprint and on to the next.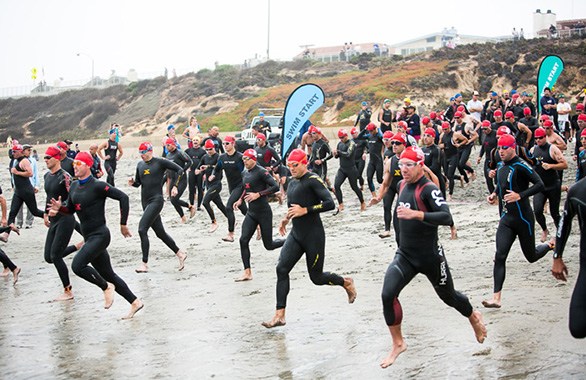 The running portion of the race is next to none when it comes to views and course layout. Running alongside the coastline and away from traffic, runners will begin their sprint by trekking along the sea wall. There is a small hill that extends up from Pine Street. The difficulty of the hill is quickly diminished by the views crossing over the Agua Hedionda inlet. Overall, the running course is relatively flat with astounding views and gentle inclines.
Many triathlons are reserved for long time competitors and people who have been training for months on end. The Carlsbad triathlon is an event for all skill levels. See below for the five different options available to competitors:
Michellie Jones Sprint Plus Triathlon: .6-mile swim, 15.5 mile bike, 3.1 mile run
Michellie Jones Sprint Plus Triathlon - Relay: .6-mile swim, 15.5 mile bike, 3.1 mile run
Sprint Plus Aquabike: .6-mile swim, 15.5 mile bike
Sprint Triathlon: .3-mile swim, 10 mile bike, 3.1 mile run
Sprint Duathlon: 1-mile run, 10 mile bike, 3.1 mile run
Athletes can register and pick up their packets on Friday, July 12th at PlayTri Oceanside. On Saturday, there will be a swim clinic hosted by long time triathlete Brian Long. Between 10-11 a.m. experts will review the course and at 1:00 p.m. Ironman Michelle Jones will continue the conversation, giving athletes key tips about the course in front of them.

Sunday is race day, and at 7:00 a.m. the Duathlon begins. Be sure to sign up now to get in on the fun or simply head out to Tamarack Beach to cheer the participants on. The triathlon is an event for everyone and the perfect excuse to get outside and get active.